Understanding the Value of Commercial Fit-out Skills
· Efficiency and Cost-effectiveness of Planning
Professionals with competence in commercial fit-out have the ability to get the most from available space as effectively as possible. They design a plan that improves efficiency and eliminates unused space by taking into account aspects like workflow, traffic flow, and the unique needs of the business. Companies can reduce excessive expansion costs and boost overall operational efficiency by maximizing the utilization of space.
Numerous financial factors must be taken into account when planning a workplace fit-out, such as labour, supplies, and potential unforeseen costs. Professionals with relevant expertise can create reliable budgets and cost estimates for projects. They can find cost-effective solutions without sacrificing quality due to their understanding of market prices, supplier agreements, and value engineering approaches. The risk of overspending is reduced, and the project's budgetary restrictions are maintained through effective budget management.
Navigating numerous construction regulations, permits, and restrictions is necessary when planning a commercial fit-out. Skilled fit-out specialists can make sure that the proposed design and construction comply with every pertinent regulation. Businesses can prevent expensive fines, modification, and other legal proceedings by proactively addressing compliance issues throughout the planning stage.
Skilled commercial fit-out professionals use value engineering approaches to find cost-saving options without sacrificing functionality or aesthetics. To identify the most affordable opportunities that satisfy the client's needs, they evaluate various materials, finishes, and systems. Value engineering enables businesses to accomplish their desired results within financial limits while preserving quality and functionality.
· Expertise in Space Optimization and Ergonomics
Operational processes within a commercial space are checked out by fit-out specialists to enhance ergonomics and space optimization. They are aware that each business has specific needs. Therefore, they take them into account when designing a workspace. They collaborate together with clients to comprehend their particular requirements, business practices, and long-term growth objectives. With that information, they can alter the fit-out design to conform to the goals, branding, and culture of the company. They create an environment that encourages productivity, employee engagement, and overall business success by designing the space to match the needs of the organization.
Designing workspaces and apparatus to accommodate workers' demands constitutes an essential component of ergonomics. Professionals with expertise in fit-outs are aware of ergonomic principles, such as optimum furniture placement, suitable lighting, and ergonomic furniture design. In order to design a workspace that lowers the risk of injuries and encourages proper posture, they take into account aspects like employee comfort, safety, and well-being. This increases worker productivity and prevents future health problems.
In the current digital era, fit-out specialists must be informed about incorporating technology into business spaces. Innovative building systems, audio-visual solutions, and communication networks are just a few examples of cutting-edge technology that skilled professionals are familiar with. These technologies can be effortlessly incorporated into the fit-out design, guaranteeing a digitally equipped environment that improves productivity, collaboration, and operational effectiveness.
· Seamless Project Management
Qualified commercial fit-out experts have the necessary skills to oversee fit-out projects and ensure a seamless and effective execution from beginning to end. They usually start by creating an extensive project plan. This includes specifying the objectives of the project, setting deadlines, determining the resources needed, and developing a thorough plan for the project's execution. They take into account a number of variables, including customer needs, financial restrictions, and legal compliance, to create a well-structured plan that serves as the project's overall roadmap.
Fit-out professionals are aware of the value of organizing the numerous project resources. To ensure effective collaboration, they communicate with architects, builders, suppliers, and other parties involved. Experts can manage relationships with all parties involved since they have exceptional communication and negotiation capacities. They reduce delays, settle disputes, and promote efficient workflow throughout the project by effectively managing resources.
Budget and cost control are strong suits for commercial fit-out specialists, who also have great financial judgment. They create precise cost projections, keep tabs on spending, and carefully watch over the project's financial situation. Assuring accountability and transparency throughout the project, they help monitor financial records, invoices, and contracts.
Furthermore, commercial fit-out contractors are adept in recognizing and controlling project risks. They carry out thorough risk assessments, proactively spot possible problems, and create mitigation plans. The capacity to anticipate difficulties, such as legal restrictions, issues with material availability, or unforeseen delays, allows skilled professionals to take preventative action to lessen their effects. They assure project continuity and reduce the possibility of expensive setbacks by skillfully managing risks.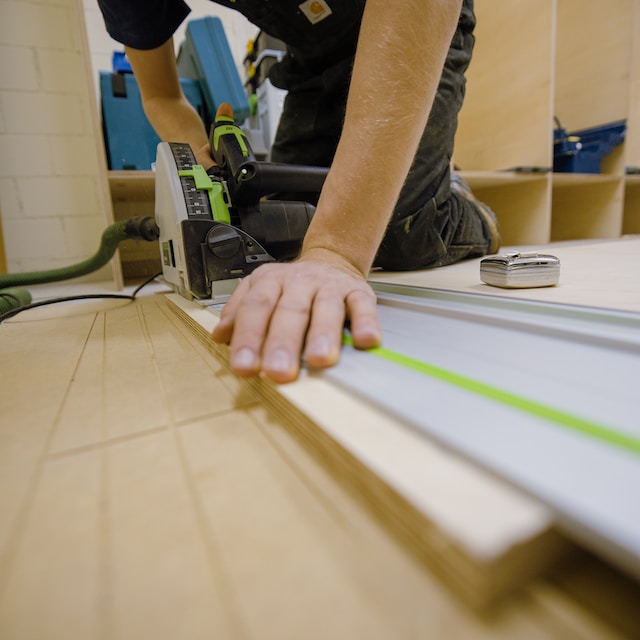 · Time Savings
Commercial fit-out experts are knowledgeable about the technicalities of fit-out projects. By effectively evaluating the client's requirements, comprehending the scope of work, and developing an extensive plan, they can expedite the project planning process. Their knowledge enables them to anticipate prospective problems and devise solutions for them, thus saving time.
In every fit-out project, coordinating multiple activities and stakeholders is a challenging undertaking. Commercial fit-out specialists are accustomed to overseeing a large number of suppliers, tradesmen, and subcontractors. They can efficiently plan and manage tasks, ensuring that work is completed quickly and without hiccups. Their expertise reduces confusion, prevents confrontations, and promotes effective teamwork among various groups.
Skilled commercial fit-out contractors have a comprehensive understanding of the fit-out process, which enables them to carry out jobs quickly. They are adept at organizing their workload and setting priorities to make sure that urgent activities are finished on time. Their proficiency in scheduling, coordination, and project management approaches guarantees that each phase of the fit-out is carried out quickly and with the least amount of downtime possible.
High-quality and reliable fit-outs

· Compliance with Building Codes and Regulations
A vital element of high-quality and dependable fit-outs is compliance with building standards and regulations. Professional fit-out contractors place a high priority with respect to these regulations to guarantee the constructed space's security, use, and legitimacy. The following are some ways that adherence to construction codes and regulations improves the standard and dependability of fit-outs:

Occupant safety is given top priority in the establishment of building norms and regulations. These codes are thoroughly understood and applied by qualified fit-out contractors to guarantee that the fit-out complies with safety regulations. They take into account things like accessibility, ventilation, emergency exits, electrical systems, and fire safety. Contractors establish a secure workplace that lowers the possibility of mishaps, injuries, and property damage by adhering to these rules.

Building regulations contain guidelines and standards for maintaining structural stability and integrity. Fit-out design and construction are held to these standards by qualified fit-out contractors. To make sure that load-bearing elements, foundations, walls, and other structural components adhere to the relevant codes, they collaborate closely with structural engineers and architects. The stability and longevity of the fit-out over the long term are guaranteed by adherence to these regulations.

Also, building codes frequently contain measures for accessibility, making sure that the fit-out is freely available to everyone, including those with disabilities. To design an accommodating place, skilled fit-out contractors take accessibility standards into account, such as ramps, grab bars, door widths, and accessible restrooms. Contractors encourage equal access and offer a comfortable setting for all users by adhering to these rules.

· Access to Design Expertise and Innovation
Space planning, aesthetics, and functionality are all concepts that fit-out professionals with design skills have a strong grasp of. They have an eye for detail and are able to turn the client's concept into an efficient and attractive design. Experts may evaluate the client's needs, examine the space, and offer innovative design ideas that maximize the use of the area and are in line with the client's brand, culture, and objectives.

The vast array of materials, finishes, and products that are available on the market can all be recognizable to fit-out professionals. They can help clients choose the best solutions for their fit-out because they are knowledgeable about the characteristics, longevity, and aesthetics of various materials. Professionals with the necessary skills can suggest advanced and environmentally responsible materials that not only satisfy the client's needs but also promote environmental responsibility.

Minimizing Delays and Avoiding Costly Mistakes

· Cost Savings Through Value Engineering
Value engineering places emphasis on streamlining construction procedures in order to increase effectiveness and reduce delays. Professionals with the necessary skills evaluate the construction techniques and spot risks to streamline processes, use fewer workers, and accelerate project completion times. They can speed up fit-out and cut downtime, which will save money, by putting more effective building procedures into place.

In certain circumstances, designs may incorporate a lot of extra features that aren't necessary and just increase costs without much-added value. The design is scrutinized by knowledgeable fit-out specialists to find areas of overly complex or excessive requirements that can be streamlined or deleted. While still achieving the essential performance criteria, they lower material and labour costs by eliminating pointless complexity.

· Improve Return on Investment
A fit-out project's ROI may be negatively impacted by delays in its completion. Additional costs, such as higher lease payments or revenue lost as a result of postponed activities, result from every extra day of delay. Skilled fit-out professionals assist clients in earning income or using the space sooner by avoiding delays through effective project management and optimizing the return on their investment.
For a fit-out project to stay within budget and maximize ROI, costly errors must be avoided. Rework, improper material selection, and design faults are a couple mistakes that might result in a lot of additional costs. Assuring that the project stays within the specified budget and maximizing ROI, skilled fit-out professionals with a keen eye for detail and experience in project planning and execution can spot and avoid costly mistakes.
Expert fit-out professionals make sure that the project is finished to the highest possible standard and exceeds the expectations of the client. High-quality fit-outs increase the space's value and boost client happiness, which can result in favourable evaluations, recommendations, and long-term business success.
The return on investment (ROI) of satisfied customers is more likely to be higher.

BRANDBOY – YOUR TRUSTED PARTNER FOR COMMERCIAL FIT-OUT PROJECTS IN AUSTRALIA

By improving the workplaces through affordable commercial fit-outs and refurbishment, businesses can create a more relaxed and efficient work environment that will enhance engagement and productivity. If you're seeking a reliable commercial fit-out company in Australia, Brandboy can be an excellent choice. We have been assisting a number of top businesses with transforming spaces to improve their work settings. All trades, including joinery, internal and external signage, carpentry, fittings, electrical and data cabling, plumbing, interior and exterior painting, glazing and replacement, façade, flooring, roofing, air conditioning, cleaning, maintenance, and other associated services, are areas in which our team is capable.
If you'd like to learn more about our office fit-out and services, call us at 0451 816 788 or email lars@brandboy.com.au as soon as possible.