Importance of Modern Living Furniture to Upgrade Your Space
Functionality: Modern furniture is developed and built with functionality and convenience in mind. By offering effective storage options, adaptable designs, and multipurpose features, it maximizes the practical use of your space.
Space Optimization: Modern furniture is frequently made to maximize the use of space due to the growing prevalence of compact workspaces. Making the most of small spaces is made possible by its innovative space-saving features, including modular construction, folding mechanisms, and built-in storage.
Ergonomics: Comfort and ergonomics are emphasized in modern living furnishings. Ergonomic chairs, sofas, and tables put optimal body support and posture a priority, optimizing comfort during prolonged use.
Aesthetics: Modern furniture has smooth lines, simple shapes, and minimalist aesthetics that embody modern design concepts. It gives your room a dash of style, refinement, and visual appeal while fostering a contemporary and trendy ambiance.
Integration of Technology: A lot of contemporary furniture is made to easily adapt and incorporate technology. You can use and charge your electronic gadgets conveniently because of features like built-in USB ports, wireless charging pads, and cable management systems.
Modern living furniture upgrades your area by enhancing functionality, improving aesthetics, optimizing space, increasing comfort, integrating technology, and personalizing the space. The result is a more joyful and welcoming working environment.
Trending Furniture Fit-outs
· Modular Sofas
Multiple separate components make up modular sofas, which can be easily changed and adjusted to meet your needs. This adaptability enables you to alter the position and arrangement of your sofa to accommodate various room types and dimensions. You can arrange chairs in a variety of ways, including L- or U-shapes or even in separate smaller seating spaces. These are especially useful in tiny or constrained locations.
There are many different styles, designs, and upholstery choices for modular sofas. To complement your current decor or to make a strong statement piece, you can select from a variety of materials, colours, and patterns. There are modular sofa alternatives to fit every taste, whether you favor a modern, minimalist appearance or a more diverse design.
Comfort is one of the key considerations in the design of modular sofas. They frequently have comfortable padding, ergonomic support, and moveable or reclining portions that can be adjusted. The seating experience can be tailored to your preferences, creating an intimate and cozy environment for resting or seating.
· Multi-functional Furniture
In terms of office furniture fit-outs, multi-functional furniture is also rising in popularity. The functionality and versatility of these adaptable components are maximized in the workplace. They provide adaptable solutions that are simple to reorganize to accommodate shifting requirements and optimize the effective use of office space. Modular desks with built-in storage, adjustable height desks that can be used as standing or sitting workstations, conference tables with built-in power outlets and connectivity options, and collaborative seating areas that can be easily converted into private workspaces are examples of such multi-functional furniture in office fit-outs. Along with enhancing a contemporary and lively office design, these multipurpose items foster productivity, collaboration, and comfort.
· Industrial Design
This design approach mixes raw and mechanical components into office furniture to create a modern and trendy ambiance. It is inspired by the look of industrial spaces like factories and warehouses. Furniture items with exposed metal frames, reclaimed wood surfaces, and clean lines are examples of industrial design used in office fit-outs. Storage cabinets could feature mesh panels or metal accents, while desks and tables occasionally have solid metal frames or supports.
· Natural and Sustainable Furniture
Businesses are increasingly looking for furniture solutions that are developed from eco-friendly materials and support a healthy work environment as a result of an increasing emphasis on environmental consciousness and well-being. In this environmentally friendly style, furniture is made from renewable and sustainable resources like bamboo, salvaged wood, and recycled plastics. These materials have been selected because they have a minimal impact on the environment and can be recycled or put to other uses at the end of their useful lives.
The emphasis on non-toxic coatings and adhesives in natural and sustainable furniture also ensures minimum off-gassing and advances indoor air quality. Employee productivity and health are improved as a result. Design-wise, organic curves, simple lines, and earthy tones are frequently used in natural and sustainable furniture. It smoothly incorporates natural aesthetics and a bit of warmth into a variety of office styles, including modern and minimalist. Businesses may show their commitment to environmental awareness and improve the aesthetics of their offices by using natural and sustainable furniture in their fit-outs.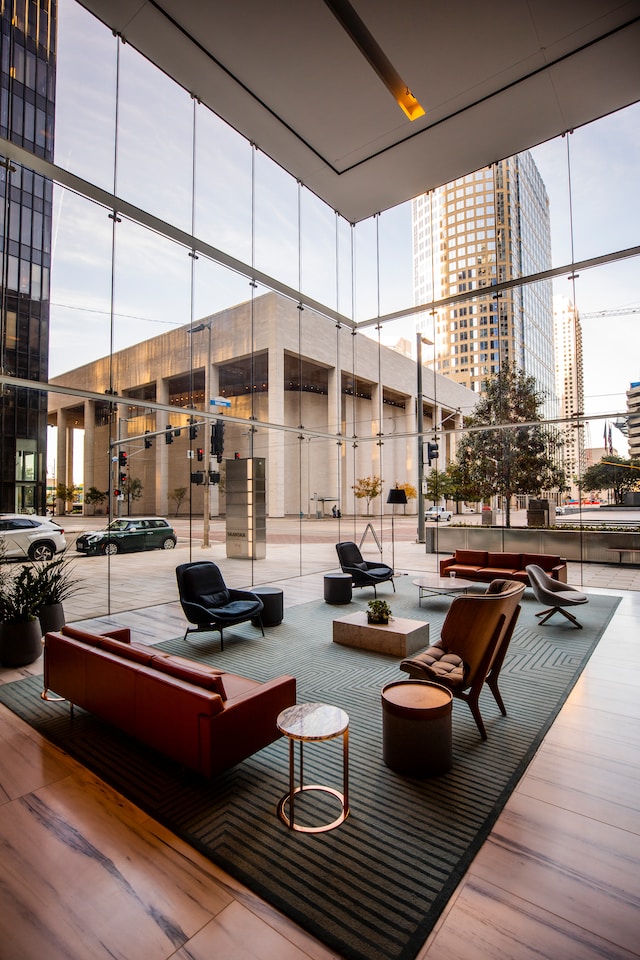 Comfortable Living Spaces
· Furniture Trends
Furniture that prioritizes relaxation, comfort, and general well-being is something that people are constantly searching for. The following trends are important to note:
Huge, plush seating: It is a common choice to create warm, inviting living spaces. Examples include big sofas, deep armchairs, and huge sectionals. The deep seating and plush cushions on these furniture pieces provide the utmost comfort as you recline and unwind.
Upholstery materials: On-trend upholstery materials include velvet, chenille, and soft textiles. They are elegant and tactile. These fabrics increase comfort and coziness while also adding a touch of beauty.
Natural components: Using rattan, wood, and other natural materials in furniture designs gives interiors an inviting, organic feel. These elements give the space a natural feel and promote relaxation.
· Office Layout
Open-plan workplaces are becoming more prevalent because they promote communication and collaboration among staff members. These floor plans frequently have shared workstations, social spaces, and adaptable seating arrangements that encourage collaboration and idea exchange.
Office layouts now contain a variety of sections built for particular tasks, such as quiet areas for focused work, collaboration spaces for team discussions, and breakout spaces for leisure and casual meetings. Employees are able to select the area that best matches their needs.
Agile workstations that include adjustable desks and well-designed seats to accommodate various working styles and enhance employee well-being are becoming more common. Office designs that are increasingly becoming popular include standing desks, comfortable chairs, and height-adjustable furniture to give workers options for comfort and movement.
· Space Planning
Furniture should be arranged to allow for simple movement and to encourage connection and conversation. To design inviting seating areas that encourage conversation or leisure, think about where to position sofas, chairs, and tables. Make sure there are open spaces and clear pathways for easy movement. A logical flow should be established so that individuals may move through the space without running into barriers or being crowded by furnishings.
Maximize natural light and take into account window positioning and window coverings when designing a space for natural lighting. Include seating places near windows to make the most of the surrounding scenery and to foster a relaxing atmosphere.
Frequently Asked Questions
· What are the 3 types of office layout?
The following are the top three styles of workplace layout design:
Open Plan Layout: This design features a sizable, open area without cubicles or dividing walls. By fostering a more open and accessible work atmosphere, it encourages collaboration and communication among employees. Shared workstations, adaptable seating options, and common places for gathering and discussion are frequently seen in open-plan designs.
Cubicle plan: In a cubicle plan, the office area is divided into separate workstations using cubicle walls or barriers. Each employee has a specific workspace that offers some level of solitude and concentration. Cubicle designs can facilitate focused work better and give staff some customizing possibilities.
Closed or private office layout: In this design, each employee or small group of employees has a private, enclosed office. High levels of seclusion are offered by private offices, reducing interruptions and fostering concentration. This design is frequently used in executive or managerial settings when discretion and focus are crucial.
It's important to note that many contemporary workplace designs are hybrid blends of these basic categories. For instance, offices may have open-plan areas for collaboration, individual or team-specific private offices, and designated breakout rooms for relaxation and casual gatherings. The particular layout chosen is determined by factors like business culture, task requirements, and personnel preferences.
· Why is comfort important in furniture?
Physical well-being: Supporting healthy posture, easing physical stress, and lowering the risk of musculoskeletal problems like back pain or repetitive strain injuries are all made possible by comfortable furniture. Furniture that has been ergonomically constructed allows people to sit, stand, or interact with it without incurring pain or physical strain.
Productivity and attention: Cozy furniture encourages increased productivity and focus. People are better able to focus on their tasks or hobbies when they are physically at ease. Pain and discomfort can be diversionary, which can result in diminished performance and production.
Health and well-being: Having comfortable furniture helps with general health and well-being. It encourages a relaxed and ergonomic workplace, which can lower stress levels and increase employee happiness. Furthermore, cozy furniture promotes healthy circulation, aids in sustaining energy levels, and lessens exhaustion after extended hours of sitting or working.
Psychological impact: People are psychologically better off when they are sitting on comfortable furniture. It induces a feeling of tranquillity and relaxation, which can uplift mood and encourage a positive outlook. People can feel more at ease and comfortable in their surroundings by using comfortable furniture to create a warm and appealing atmosphere in their homes, workplaces, or public spaces.
BRANDBOY – MODERN OFFICE FURNITURE FIT-OUT
The well-planned and thoughtfully coordinated furniture fit-out can help you improve your offices' general look and feel. They provide your staff and clients with a warm and welcoming environment. It's crucial to choose knowledgeable and skilled construction and fit-out contractors who can help in transforming spaces for your company. Brandboy provides a team of qualified interior designers, carpenters, and joiners in Australia for planning, building, and installing high-quality furniture such as reception counters, office chairs, tables, cabinets, coffee bars, doors, and other interior designs.
For any interior space in the retail and commercial sectors, we specialize in fit-out, building, design, repair, and renovation. The Brandboy team has vast expertise working on a variety of joinery, carpentry, woodworking, and furniture design and installation projects Australia-wide from various industries, including retail, commercial, healthcare, corporate, and transportation.
Furthermore, we handle flooring, ceilings, interior and exterior painting, electrical and data, plumbing, air conditioning, cleaning, gardening, signs, joineries, fixtures, and equipment, as well as other related services.
Please fill out our contact form if you are interested in learning more about how office furniture fit-out and design can benefit your company. Or contact us at 0451 816 788 and lars@brandboy.com.au, and we'd be pleased to address any questions you have regarding your upcoming project.