Importance of office furniture fit-out for your business
Office furniture fit-out comprises the process of planning and putting furniture in an office to produce a workplace that promotes efficiency, boosts productivity, and creates an organized and comfortable working environment. This approach can be used to refurbish an existing workspace or to carry out the original design and construction of a new office. In order to make a workspace both efficient and visually pleasing, business owners should consider the design, construction, and arrangement of office furniture carefully.
Listed below are some of the advantages that make office furniture fit-out essential for the success of your business:
Promotes work Productivity
By designing a functional and comfortable workstation through suitable furniture fit-out, employees can increase their work efficiency and productivity. Furniture with ergonomic design can lessen bodily discomforts like fatigue, stress, and back pain, allowing workers to be more focused and creative. This can then result in greater staff retention rates, enhanced collaboration, and a more enjoyable work atmosphere.
Establishes a Professional Image
The appearance of your office can say a lot about your company. A well-organized workspace with coordinated furniture design and arrangement can exude an impression of competence and dedication. That can help draw in more clients to the business.
Improves Brand Recognition
The interior design of your office space can help enhance your brand identity. Custom-made furnishings using your brand's colours, logo, and other design components can support your brand identity and leave a lasting impression on visitors.
Maximizes Space
Particularly in small-sized and tiny offices, a furniture fit-out can help you make the most of the space in your office by designing a plan that optimizes functionality. As a result, the workstation will likely become cleaner, more organized, and more functional.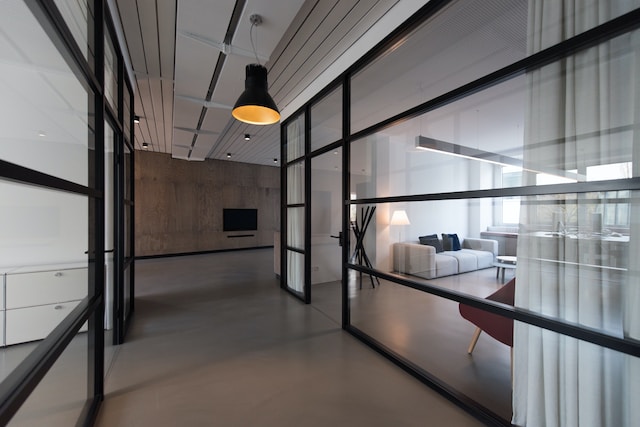 OFFICE DESIGN TRENDS 2023
· Sustainable designs
As more businesses seek to decrease environmental degradation by creating more eco-friendly workspaces, sustainable designs of office furniture fit out continue to rise in popularity. Eco-friendly materials and recycled and renewable resources, such as bamboo, recycled plastics, and reclaimed lumber, are used for producing sustainable office furniture. These materials are not only eco-friendly but also sturdy and aesthetically pleasing. Recyclability is given top priority in sustainable office furniture designs. This indicates that less garbage will be dumped in landfills because the furniture is made to be readily disassembled and recycled at the end of its operational life.
· Seating for Comfort
The relevance of comfortable seating in office workplaces has grown popular as more and more companies realize the value of employee health and wellbeing. For example, ergonomic office chairs are designed to support proper posture and lower the risk of strain or injury. These chairs have a number of features that enhance comfort and health. As to the customized components, employees can also adjust their chairs to suit their unique needs and preferences. The seat height, lumbar support, and armrests can all be customizable.
Additionally, gaining popularity now is active seating. Leaning stools and standing desks are examples of active seating that encourage engagement and movement while seated. Due to their ability to counteract the detrimental effects of extended sitting, these chairs are common in contemporary office settings.
· Wooden Furniture
Due to its aesthetic appeal, durability, and sustainability, wooden furniture has been growing in popularity also. Wooden office furniture offers a warm, natural appearance and feel that can produce a welcoming and pleasant environment. Natural wood's grain and texture can be used to produce a distinctive and fashionable aesthetic that will go well with any office design. Wooden furniture is adaptable and may be used in a range of settings, from traditional to modern office spaces.
· Open layouts
To create a spacious space, open layout design strategy can be applied to furniture fit-out. This type of design is frequently employed in contemporary homes, offices, and other settings where the aim is to foster freedom, communication, and collaboration.
Open layouts are achieved in furniture fit-outs by using basic, simple, and practical furniture components. For instance, modular furniture fit-outs, such as open shelving units and adjustable workstations, can be used to design a flexible setup that can be modified to fit the changing needs of the area.
· Vintage Aesthetics
The use of furniture with a vintage style refers to those that are reminiscent of or influenced by bygone eras. As people look to infuse their workspaces with charm and warmth through the use of distinctive and sentimental design elements, this trend has become more and more popular in recent years.
Designers may employ furniture pieces with clean lines and traditional shapes that are constructed of natural materials like wood, leather, or metal in order to bring vintage aesthetics into furniture fit-outs. Along with vintage furniture, interior designers might also use retro lighting fixtures, old artwork, or other furniture pieces to give a room a nostalgic and unique feel.
· Sensors and voice assistants
In addition to the practical advantages, sensors and voice assistants can improve the user experience by creating a setting that is more tailored to the user's requirements. For instance, a voice assistant can offer personalized answers to user questions and requests, and a sensor-based system could adjust a room's lighting and temperature settings based on the user's preferences. Sensors can be built into furniture to offer real-time data on a range of environmental conditions, including temperature, humidity, and lighting degrees.
· Bright colours for more vibrancy
Furniture and interior design can benefit from the vibrancy and excitement that bright colours can bring. It can be especially effective in areas like children's rooms, playrooms, or other places where a sense of fun and creativity is wanted. Using strong, brilliant colours in furniture can create a joyful and vibrant atmosphere in workspaces.
Bright colours can have psychological effects on persons who utilize a room in addition to having a more dynamic aesthetic impact. According to studies, for instance, particular colours might influence one's mood and mental health. Bright colors are frequently linked to good feelings like excitement and happiness.
However, it's crucial to employ vivid colours sensibly and sparingly. A design's overall appeal may be harmed by excessive use of colour. Consider balancing the visual effect of bright furniture with neutral or pastel hues, or add pops of colour to a more subdued environment with vibrant decorations and accessories. In the end, the decision to employ vibrant colours in furniture and interior design is a subjective one that is based on the goals and interests of the designer or client.
· Dedicated booths
Furniture setups for offices and public spaces like airports and libraries, dedicated booths for extra privacy are common. Individuals can work, read, or unwind in these booths without being distracted by outside noise or other interruptions.
Depending on how much privacy is needed, privacy booths can be either open or enclosed. While open booths may use barriers or screens to give a sense of solitude while still allowing some visual and aural connection with the surrounding area, enclosed booths may have walls or screens that serve as a barrier between the user and the surrounding space.
Frequently Asked Questions
· What design trends in commercial offices to look out for in 2023?
Several design styles could continue in popularity in commercial office design in the future, based on recent trends and forthcoming innovations:
Adaptable Workspaces
The pandemic has expedited this tendency, which is projected to last until 2023 and beyond. A combination of open and private workstations, as well as multi-use spaces that are easily customizable to meet changing needs, may be prevalent in offices.
Biophilic Design
It aims to bring a sense of nature into the built environment. This could be utilizing organic materials, living things, and other elements that have a natural feel to them. This can improve staff motivation and productivity.
Technology integration
In 2023, it's expected that this key trend will still be prevalent, with a focus on automation, data-driven design, and the application of smart systems to make the best use of available resources and space.
Sustainability
With an increased emphasis on the use of renewable materials, energy-efficient technologies, and the reduction of waste and carbon emissions in commercial office building construction, the focus on sustainability is likely to continue.
These are just a handful of the modern office design trends that could be important for commercial office design in 2023 and beyond. As with any design trend, it's crucial for designers and company owners to carefully evaluate their unique needs and objectives and to collaborate with skilled experts to develop spaces that are efficient, motivating, and functional.
· What will be the future of office spaces?
A variety of trends and influences, such as technological advancements, evolving work habits and patterns, and broader societal and economic changes, are expected to shape the future of office spaces.
The epidemic has made remote and hybrid work models more prevalent, and this tendency is expected to continue in the future. A combination of in-person and remote workers may be accommodated in an office, and flexible workspaces and technological solutions that facilitate collaboration and communication across locations may be used. Also, The value of health and wellness in the workplace is becoming more widely recognized, and offices may now be built with amenities like green areas, natural light, and ergonomic furniture to promote employee wellbeing.
With an emphasis on collaboration and creativity and the shift away from fixed workstations and cubicles, the conventional office layout may continue to change. With a combination of open and private workstations, offices may be created to encourage collaboration and random meetings.
HIGH-QUALITY OFFICE FURNITURE FIT-OUT FROM BRANDBOY
You can benefit from the professionally-designed and well-arranged furniture fit-out to enhance the overall appearance and atmosphere of your workplaces. They offer an inviting and comfortable space for your employees and clients. It's essential to select informed and professional fit-out and construction professionals who can assist in transforming spaces for your business. When it comes to planning, building, and installing high-quality furniture like reception counters, cabinets, coffee bars, doors, and other interior designs, Brandboy offers a team of skilled interior designers, carpenters and joiners in Australia.
We specialize in fit-out, building, design, refurbishment, and construction to match any interior space in a retail and commercial industry. Brandboy team has considerable experience working on several joinery, carpentry, woodworking, and furniture design and installation projects Australia-wide from a variety of sectors, including retail, commercial, healthcare, corporate, and public transport.
Our services also involve flooring, ceiling, internal and external painting, electrical and data, plumbing, air conditioning, cleaning, gardening, signages, joineries, fixtures, and equipment, and other related services.
If you'd like to learn more about how office furniture fit-out and design can benefit your business, please contact us by signing up our form. Or give us a call now at 0451 816 788 or lars@brandboy.com.au, and we'll be happy to address all your concerns about your next project.