Whether your business is already thriving or just a start-up, it's vital to have signage and display graphics to build an effective reputation and stand out from the competition. Because of its proven contribution to the success of businesses, you can see signage almost everywhere at any time.
Here are 3 of the top reasons why signage is crucial to your business.
Build Brand Recognition
If you want your brand to be top-of-mind when people think of a particular product or service, it's highly advisable that you invest in putting up quality signage and display graphics. Well-developed and attractive signage informs people about the presence of your company, entices them to learn more about your business brand, and leaves a good first impression on everybody who sees it. It will increase your chances of gaining new customers as well as recurring business from existing ones.
Check out this eye-catching external signage and graphics put up by Brandboy in Australia. We have been part of the new external look and feel of Midas Automotive stores such as the Midas Newmarket in Enoggera Queensland.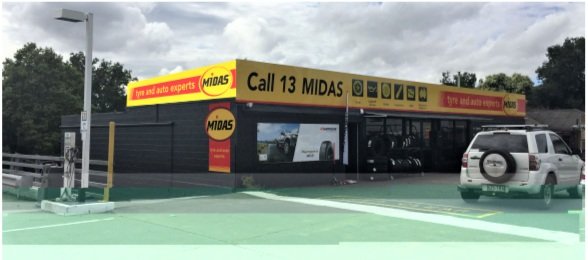 Cost-effective strategy
One good thing about signage is that it is relatively more cost-effective when compared to other advertising and promotion methods in terms of cost-per-impression. As a continuous marketing campaign visible 24 hours, 365 days a year, consider signage as a one-time cost that can last for years, making it a profitable investment of your hard-earned money.
Effective Communication Tool
In today's fast-paced environment, it is very hard to capture people's attention with static and boring content. People are more attracted to digital signage which can display moving and dynamic advertisements. Through digital signage, you'll be able to communicate real-time information about your business to a broad audience. Also, a well-designed wayfinding signage can help in guiding and directing people to your business as quickly and as smoothly as possible, resulting in increased sales and satisfied customers.
While good business practices and customer service are essential, the importance of signage and graphics should never be underestimated.
READY TO GET A QUALITY SIGNAGE FOR YOUR BUSINESS?
Contact us today to learn more about how Brandboy can make your company stand out with signage and display graphics that your customers will appreciate. We specialize in different kinds of internal and exterior signage- digital signage, wayfinding, experiential architecture signage & graphics, fascia signage, pylon signage, billboards & banners, and LED lightboxes. You can call us or send an email and our experts with extensive skills and experience will provide quality signage solutions that will meet and exceed your expectations.