Corporate Digital Signage: Increasing Engagement and Communication at Work
Corporate digital signage refers to the use of digital displays or graphics to convey data information and messages to an audience, such as employees and customers, in a business setting.
Digital signage can boost communication and engagement at work in a number of ways, which includes the following:
Enhanced visibility: Digital signage can be precisely placed in frequently visited areas of the office, including lobbies or conference rooms, to maximize exposure and ensure that vital messages are seen by a large audience.
Real-time updates: Since digital signage can be updated in an instantaneous mode, essential details like upcoming events, company announcements, or emergency alerts can be delivered on time.
Interactive content: Digital signage is an effective way to display multimedia contents that are interactive, such as polls and surveys, which can be used to engage employees and motivate them to support business activities.
Companies can enhance interaction and keep employees informed and engaged by strategically setting up corporate digital signage and displays across the workplace.
Corporate Digital Signage for Businesses
Corporate Digital Signage Software
The software for the control and display of digital content on screens in a corporate setting is known as corporate digital signage software. With this software, businesses can produce and showcase multimedia items such as photographs, videos, promotions, and announcements. These are placed on digital screens throughout their workplace or public spaces.
Corporate digital signage software often includes features like scheduling information, remote content management, and analytics to gauge the effectiveness of the data. This promotes communication and engagement in the workplace by enabling companies to send customized messages to their staff, guests, and clients.
Some corporate digital signage software may also offer extra features like social media platform integration, weather updates, and real-time news feeds. Users can effortlessly update and change material using the software's web-based interface, which allows for quick access and management.
Corporate digital signage software is of the utmost importance because it gives organizations the tools and capacity to produce, manage, and display interesting digital content that can help businesses draw in and keep consumers, boost revenue, and enhance the general customer experience. Businesses can improve their digital signage strategy and more successfully accomplish their marketing and communication goals by employing corporate digital signage software.
Digital Signage Solutions for Corporate
NoviSign: A cloud-based digital signage platform that provides features including remote content management, real-time updates, and analytics. Due to its multi-location installation feature as well as its capacity to integrate with calendars and social media, it is perfect for business settings.
Signagelive: It is a cloud-based digital signage solution with tools including content scheduling, remote management, and configurable dashboards. It includes a variety of connectors, such as those with Google Drive, Microsoft Office, and social media sites, making it perfect for professional settings.
Navori: It is a digital signage solution that includes tools for scheduling content, remote management, and configurable themes. It features multi-user support and integration with a variety of third-party apps.
Digital Signage for Corporate Offices
Digital signage is a popular tool used by businesses to instantly communicate important notifications, updates, and news to their staff. This can also enhance general communication inside the organization and keeps workers informed and interested as well.
Some examples of content that can be displayed on corporate digital signage for internal communications include information on safety and emergencies, business announcements and updates, employee awards and accomplishments, employee benefits and HR policies and company protocols.
Employees can identify and reserve available meeting spaces easier by using digital signage for meeting room scheduling. This is frequently accomplished by utilizing touch-screen displays outside of conference rooms that offer real-time details about the room's availability and upcoming reservations.
Below are some typical characteristics of digital signage for scheduling meeting rooms:
Real-time availability: Digital signage displays can display information about a meeting room's availability in real-time, making it simpler for staff to locate and book open spaces immediately.
Enhanced utilization: With the help of digital signs, workers can easily locate and reserve open meeting spaces, resulting in more effective use of available space and fewer schedule conflicts.
Configured displays: Digital signage displays can be tailored to show additional details, such as room capacity, equipment availability, or any other pertinent information.
Easy reservations: Touch-screen displays allow for the quick reservation of meeting spaces, eliminating away the need for manual scheduling procedures.
Modern communication tool
Because it is capable of conveying messages in an interesting and dynamic way, digital signage is becoming a more and more common modern communication tool in business. Here are a few examples of how businesses are utilizing digital signage as a contemporary form of communication.
Advertising and marketing: Within an organization, digital signage is a very powerful tool for promoting and advertising products and services. Digital signage can be used to advertise new products, draw attention to discounts or sales, or even provide client feedback.
Entertainment: Customers or visitors can be entertained by captivating content such as current events, weather forecasts, social network feeds, or even fun games or quizzes, using digital signage in waiting areas or lobbies.
Wayfinding: Digital signage can also be used as a navigation tool within a business establishment, directing clients or guests to a particular location. This is particularly helpful in large or complex buildings or facilities where guests might need help exploring the space.
Overall, digital signage offers companies a flexible and dynamic communication tool that can be employed in a number of ways to engage clients, staff members, and guests. It is an effective approach to advertise goods, disseminate knowledge, and make an environment that is modern and appealing.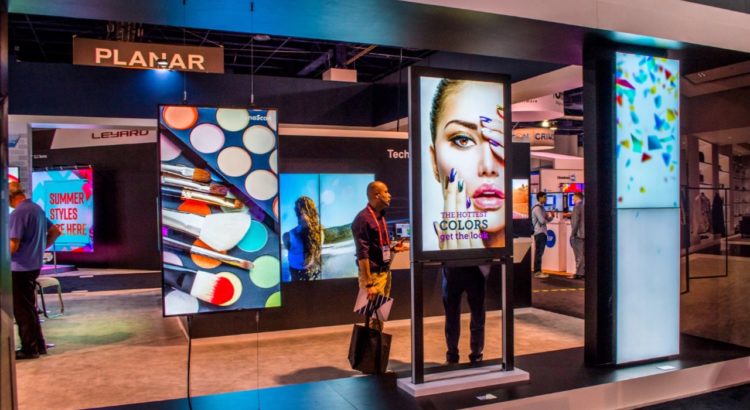 Enhancing Customer Experience through Digital Signage
· Improved engagement: Dynamic and interactive content like motion pictures, animations, and puzzles on digital signage may grab and hold customers' attention.
· Personalization: Depending on a customer's choices or previous behaviour, digital signage can be configured to display customized ads or promotions. Customers may have a more personalized and meaningful experience as a result, which may boost their appreciation and commitment.
· Optimized brand recognition: An increase in customer recognition and commitment to a brand can be achieved through the provision of informative material about a brand's products, services, values, or objectives. Customer trust and engagement may rise as an outcome of this approach.
Frequently Asked Questions
· What are examples of digital signage for corporate office?
Digital material can be created, managed, and displayed on screens, including displays, monitors, and kiosks, using digital signage technologies. These solutions typically consist of hardware, software, and services that let companies produce and manage dynamic, interactive content for their intended audience. Listed below are some corporate digital signage examples:
Software for creating digital content: This kind of program enables companies to produce interactive apps, animations, and other types of digital content like graphics and videos. Some software solutions give businesses the ability to easily create professional-looking content without the need for highly developed design talents by offering templates and design tools.
Digital signage displays: These are available in a variety of sizes and designs, ranging from compact units that fit on store counters to huge video walls that can be utilized for branding or advertising. Displays can be made for indoor or outdoor use and fixed on walls, ceilings, or even free-standing kiosks.
Media players: By connecting digital signage displays to a network or a content management system (CMS), media players allow businesses to remotely manage and update content. Advanced features like touch screens and interactive sensors can also be supported by some media players. Businesses can organize and schedule electronic data across numerous screens or locations using content management systems (CMS). The web-based interface that CMS normally offer allows organizations to edit content, track performance, and assess audience engagement.
· How can digital signage help your business?
Businesses of every sort and size can benefit from a wide range of advantages provided by digital signage. The following are a few ways that digital signage can help your company:
Draw attention: Digital signage is an effective way of attracting attention to your company, its goods, or its services because it is vibrant and eye-catching. It could aid in bringing in more clients and boosting foot traffic at your place of business.
Boost sales: Digital signage can be used to advertise goods, services, or limited-time deals, motivating consumers to make a purchase. Additionally, it can be used to upsell or cross-sell items, raising the average transaction value.
Metrics and analytics: Digital signage solutions frequently come with metrics and analytics that can be used to gauge the effectiveness of content and user engagement. The total performance of digital signage can be increased by using this data to optimize the content.
Enhance customer experience: Digital signage can offer useful information like directions, product details, or waiting intervals, which can enhance the overall experience for every client. Additionally, it can offer entertainment to make waiting time less boring.
Time and money savings: By eliminating costs for manual signage upgrades and allowing digital signage to be readily handled remotely, it results in a more cost-effective approach. Compared to conventional signage, it can also lower printing and distribution expenses.
Improved productivity and efficiency: Real-time data, such as KPIs or meeting schedules, can be shown using digital signage to increase efficiency. It can also be utilized to speed up procedures like check-ins and wayfinding, requiring less personnel support.
In general, digital signage may benefit businesses in a variety of ways, such as boosting visibility, boosting sales, and even by enhancing the customer experience and cutting costs. Businesses could differentiate themselves from the competition and interact with customers in brand-new and interesting ways by adopting digital signage.
NEED HELP AND ADVICE IN SETTING UP CORPORATE DIGITAL SIGNAGE?
By installing top-notch signage in offices and building establishments, Brandboy has assisted numerous retail and commercial businesses in attracting more consumers and growing their revenues. We offer a range of signage solutions, including exterior and interior signs, wayfinding or directional signs, experiential architecture, safety signs, educational signage, fascia, pylon, billboards and banners, LED lightboxes, retail shop signage, and digital signages.
Brandboy is capable of managing an entire project, including but not limited to site audits, council approvals, documentation, and engineering reports. Our company is made up of reputable and experienced sign designers and installers from all around Australia who can help you in transforming spaces by installing signs with the commitment to complete the project on time and within your specified budget.
Our Brandboy team is also capable of working on many types of projects, including fit-out and renovation, joinery, woodwork, fittings, electrical and data cabling, painting, glazing replacements, solar panel installation, façade, flooring, roofing, digital transformation, and other related services. Our exceptional expertise in retail and commercial fit-out will ensure that your property network's assets improve effectively.
If you're interested in learning more about Brandboy's signage solutions, schedule a consultation with us. You can also contact us at 0451 816 788 or lars@brandboy.com.au.