Enhancing Retail & Commercial Bathrooms with Stylish Fit-outs
A great approach to provide customers and employees with a pleasant and memorable experience is by enhancing retail and commercial bathroom facilities with appealing fit-outs. Customer satisfaction, brand perception, and overall business success can all be strongly influenced by an attractive and well-designed bathroom facility.
The Importance of Stylish Fit-outs
Improved User Experience: Using a bathroom that is attractively furnished offers a satisfying and positive experience. A well-designed and aesthetically pleasing bathroom improves people's mood and gives them a cozy, relaxing feeling. This great encounter can make a lasting impression and helps to increase client satisfaction.
Reflects Brand Image: The bathroom facilities in retail and commercial buildings serve as an extension of the overall brand image. Businesses can strengthen their brand identity and values by using a visually appealing fit-out. The bathroom design should be consistent with the brand and give customers a seamless experience, whether it's a sleek and contemporary look for a high-end store or a lively and colourful vibe for a family-friendly business establishment.
Competitive Advantage: A trendy bathroom can be a standout selling point in an increasingly competitive sector. It gives you an advantage over rival companies and distinguishes your company. Customers value attention to detail, and a well-designed restroom may help your business stand out in the eyes of visitors, thereby enticing them back and generating favourable word-of-mouth recommendations.
Enhanced cleanliness: A beautiful fit-out can have a favourable impact on how a bathroom is perceived as being clean and hygienic. Customers are more inclined to believe that a restroom is kept up and tidy when it is aesthetically pleasing. This perspective is essential to businesses because it fosters client confidence and informs them that their health and well-being are a top priority.
Employee Satisfaction: Stylish restrooms have an impact on both employee satisfaction and productivity in addition to pleasing guests. Employees' overall job happiness may be increased by giving them a comfortable and well-designed room to utilize during breaks or while on duty. It enhances productivity and fosters a positive work environment.
Creating an Impactful Bathroom Design
Merging Functionality and Aesthetics
Choose materials that are both aesthetically appealing and long-lasting. Think about factors like durability, stain resistance, and resilience to moisture. Typical options include ceramic tiles, natural stone, glass, and metallic surfaces, each of which offers a special combination of design and usability.
Select a colour scheme that goes well with the overall design theme. Lighter hues can convey an air of openness and brightness, while darker tones provide drama and sophistication. For sufficient illumination and to create a warm atmosphere, combine natural and artificial lighting.
Strategically incorporate mirrors and reflective surfaces to give the impression of wide space and improve the overall design. Mirrors that are strategically positioned can also improve illumination and provide a practical purpose. To enhance both aesthetics and practicality, think about using mirrored cabinets or walls.
Paying close attention to even the smallest details may make a bathroom design stand out. Take into account components like soap dispensers, soap bars, towel hangers, and other accessories that fit with the general design style. Even seemingly insignificant things like the choice of door handles and the colour of the grout can have a big impact.
High-Quality Fixtures and Fittings
Select faucets that are composed of sturdy materials like solid brass or stainless steel. Look for materials with complementary finishes, such as matte black, brushed nickel, or polished chrome. For greater convenience, take into account features like thermostatic controls, customizable sprays, and water-saving alternatives. For a contemporary touch, think about wall-mounted, under-mount, or vessel sinks. Look for vanity units that have lots of storage space and sturdy drawer hardware.
Select toilets that are both functional and water-efficient. To save water, look for models with dual-flush systems. Wall-mounted toilets or sleek, contemporary designs are both excellent options.
Contemporary Lighting
Employ smart lighting to improve the aesthetics and usability of your bathroom. Install smart switches or bulbs that can be managed by voice assistants or mobile apps, enabling you to change the lighting's colour temperature and intensity to suit your tastes. Some systems also include programmable illumination presets for various tasks or moods.
Modern bathrooms frequently use LED strip lighting to add accent or ambient lighting. To give a gentle, indirect illumination, place them around the edge of the ceiling, under the counters, or along the vanity mirrors. Energy-efficient LED strips can be adjusted for colour temperature, and they can also be dimmed for more flexibility.
To give general lighting across the room, install recessed lights in the ceiling. Choose LED recessed lighting to save energy, and select fixtures with directional or adjustable trims to draw attention to particular rooms or architectural details.
Creative Use of Materials
Think about using wood for storage, vanity countertops, or accent walls. Choose sleek, dark wood for a contemporary style or incorporate recycled or damaged wood for a rustic or industrial feel. Consider also using glass for shower enclosures, room dividers, or even as a design feature on cabinet doors or walls. Glass that is textured or frosted can offer privacy while still letting light through.
Include metal finishes to bring a sense of class and brilliance. When choosing materials for fixtures like faucets and cabinets, think about utilizing brushed or polished stainless steel, brass, or copper. Combine several metal finishes for an elegant and unique aesthetic.
To add aesthetic appeal to your bathroom, experiment with various tile patterns and textures. When designing accent walls, backsplashes, or bathroom areas, think about choosing tiles with mosaic designs, geometric patterns, or textured surfaces. To create a distinctive and fashionable aesthetic, experiment with various colour schemes and tile arrangements. Promote sustainability by using recycled materials in the design of your bathroom. For vanity counters, accent walls, or storage, take into account using recovered wood, salvaged tiles, or recycled materials. These components can give the interior of your bathroom a creative style and distinction. 
When using different materials in your bathroom design, keep in mind to strike a balance between creativity and functionality. Make sure the materials you choose are tough, moisture-resistant, and easy to maintain for the bathroom environment. You may create a chic, individualized bathroom with a distinctive style by incorporating innovative materials.
Thoughtful Color Scheme
A trendy bathroom can be built on a foundation of neutral hues since they produce a classic and elegant appearance. As the primary colour scheme, think of employing tones like white, beige, or gray. You can add colourful accents through accessories or accent pieces because neutrals offer a flexible background.
A monochromatic colour scheme focuses on different shades of a single colour. Throughout the bathroom, employ a prominent hue in a variety of tints, tones, and shades. For instance, a grayscale colour scheme might provide a clean and contemporary touch, while a soothing blue monochromatic design can create a tranquil atmosphere.
Bathrooms can benefit from the calming effects of soft, pastel colours. Think of utilizing pale hues of blue, green, pink, or lavender. These tranquil hues can give the room a light, peaceful impression. To create a delicate and feminine vibe, include these tones through tiles, wall paint, or accessories.
Earthy tones can give the bathroom a cozy, earthy vibe. Think about utilizing natural colour palettes like earthy greys, soft greens, and warm browns. These hues can produce a warm and welcoming environment. To improve the overall organic appearance and feel, use them with natural materials like wood or stone.
Space Optimization
To make the most of your bathroom's space, start by carefully designing its layout. Think about where to put things like the toilet and sink. The layout should facilitate movement and maximize functionality.
Installing tall, narrow shelving units or storage cabinets will help you make use of vertical space. By doing this, you may optimize storage without taking up a lot of floor area. To maximize storage versatility and accommodate various things, think about employing adjustable shelves also.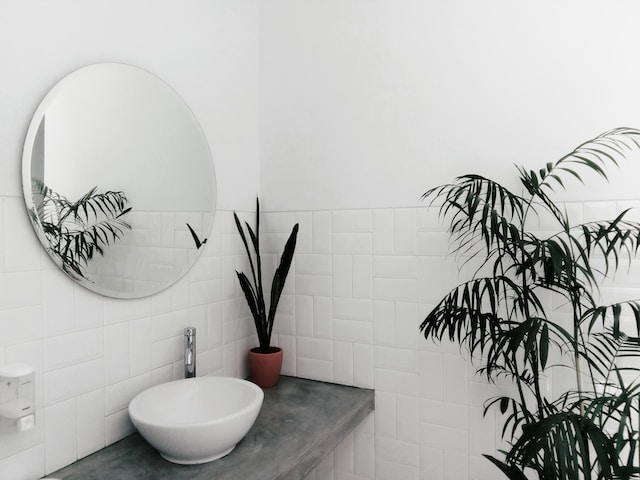 Frequently Asked Questions
 What is retrofit vs. fit-out?
When remodeling or modernizing a facility, the phrases retrofit and fit-out are not interchangeable.
Retrofitting is the process of modernizing or altering an existing structure in order to increase its effectiveness, functionality, or performance. It often entails modifying or adding to an area's current infrastructure, systems, or parts. Retrofitting might involve improvements like better insulation, switching out inefficient equipment for more energy-efficient models, modernizing electrical or plumbing systems, or incorporating new technology. A place that is older or less efficient needs to be retrofitted to bring it up to date with current standards or to satisfy certain requirements.
Fit-out, on the other hand, is the process of planning and outfitting a room's interior so that it is useful, attractive, and appropriate for the purpose for which it is designed. To finish the interior area, fixtures, fittings, furniture, and finishes must be installed. Typical components of a fit-out include flooring, lighting, divider walls, ceilings, furniture, cupboards, and decorative elements. A fit-out's main goal is to design an appealing, well-equipped interior space that caters to unique requirements.
What is sustainable fit-out?
A sustainable fit-out is the process of planning and building an interior area in a way that reduces adverse environmental effects, encourages resource efficiency, and places a priority on occupant well-being. Cutting down on energy use, water use, trash production, and hazardous emissions entails integrating sustainable methods, materials, and technology throughout the fit-out process.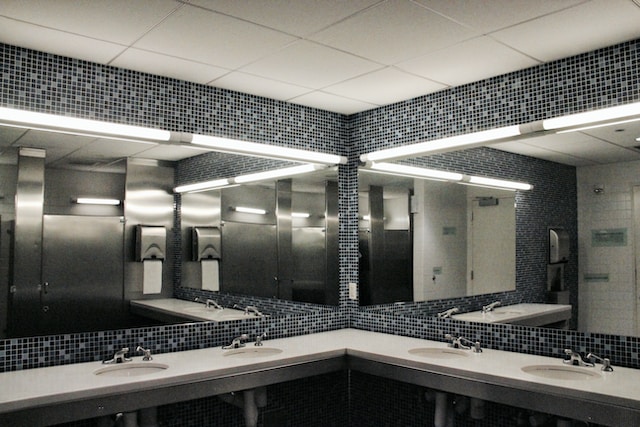 NEED ASSISTANCE WITH YOUR RETAIL AND COMMERCIAL BATHROOM DESIGNS
You can make the bathrooms in your place of business more welcoming and functional for your clients or staff by updating their appearance and feel. This could enhance their overall experience and give them a better picture of your company.
Brandboy can help you in transforming spaces by improving the look and feel of your property. We have a proven traa
NEED ASSISTANCE WITH YOUR RETAIL AND COMMERCIAL BATHROOM DESIGNS
You can make the bathrooms in your place of business more welcoming and functional for your clients or staff by updating their appearance and feel. This could enhance their overall experience and give them a better picture of your company.
Brandboy can help you in transforming spaces by improving the look and feel of your property and implementing retail and commercial fit out projects. We have a proven track record in helping leading companies with their construction, fit-out, and refurbishment projects, including bathroom renovation at an affordable remodelling cost. Our team specializes in retail store and commercial fit-out and renovation, construction, remodelling, and maintenance. We can be involved in all trades – joinery, signage, carpentry, fixtures, electrical and data cabling, air conditioning, plumbing, painting, glazing replacements, solar panel installation, façade, flooring, roofing, cleaning, digital transformation, and other related services.
Our services involve commercial fit outs Sydney, retail solutions Australia, site audits across all stores and offices, budget and cost analysis, council approval, complete documentation, procurement and maintenance management, remedial works, fire and safety compliance, and end-to-end project management.
Contact us at 0451 816 788 or send us an email at lars@brandboy.com.au to learn more about how we can assist you by providing high-quality retail and commercial fit out services.