Shop Fit out Design: Creating an Inviting Space for Your Customers
The success of your business can be greatly contributed by a well-designed shop fit out because it will give customers a welcoming and appealing ambiance. An expertly planned and implemented retail or commercial fit out can improve client satisfaction, boost foot traffic, and eventually increase sales.
Potential customers are more likely to enter your store if they have a good first impression of the shop fit out design. Customers can be directed throughout your business space, and your products or services can stand out with the help of a well-designed layout. Customers can feel at ease and calm in your store if you use the proper lighting and colours to create a warm and inviting atmosphere.
Also, taking advantage of furnishings and decorations can aid in establishing an appealing setting that motivates clients to explore and engage with what you offer. By paying close attention to the tiny details when designing your shop fit out, you can produce a space that distinguishes your company from competitors and creates a positive impression on your clients.
Shop Fit out Design: Creating a Space That Works for You
• Embrace Vertical Space
An excellent strategy to improve your retail space and your customer shopping experience is to utilize vertical space in your store fit-outs. Here are some advantages and tips for using vertical space effectively in your shop fit-out:
Increased Product Visibility: By making use of vertical space, you may display more goods and products, making the most of your inventory without taking up valuable floor space. Customers are drawn upwards by vertical displays, expanding their product discovery and boosting the likelihood of purchasing without hesitation.
Visual merchandising: Vertical space offers a chance for creative visual merchandising. For creating themed displays or showcasing notable products, think about employing wall-mounted shelving, racks, or display units. To create visual appeal and draw attention to important products or campaigns, position things at various heights and angles.

Effective Space Utilization: Vertical storage solutions can be a huge asset for small or compact retail spaces. Install display cabinets or shelving that are tall, slender, and reach the ceiling. By doing so, you may maximize the use of your available space by storing and displaying more products inside a small area.
Storage Options: Effective storage choices can also be implemented in the vertical space. To organize supplies, inventory, or equipment, install high cabinets, shelving, or hanging racks in backrooms or storage spaces. As a result, the sales space is kept clear of clutter, and items remain accessible.
It's crucial to balance practicality and aesthetics when embracing vertical space in your shop fit-out. Make sure your displays are organized neatly, have a pleasing appearance, and reflect your brand.
• Use Your Walls
Effective wall utilization in store fit-outs is an innovative way to maximize space, improve aesthetic appeal, and attract consumers. Here are some ideas for maximizing your walls:
Wall Shelving: To promote your products, install shelves, display sections, or modular systems to the wall. Featured goods, product categories, or curated displays can all be highlighted using these items. Select shelving units that will enhance the appearance of your store and are visually appealing.
Wall graphics and arts: By adding wall graphics, artwork, or decorations, you can turn plain walls into visually captivating exhibitions. These may represent your brand's personality, deliver messages, or accentuate your store's creative features. Wall decorations that are interesting and aesthetically pleasing can leave a lasting impression on clients.
Branding and signage: Walls are an excellent place for branding and signage opportunities. Install signage with your store name, brand, and important points in a visible location. This generates a consistent brand experience for customers and aids in helping them recognize your brand quickly. For greater impact, think about using LED signs, digital displays, or volumetric signage.
• Keep it Simple
A retail fit-out can benefit from keeping items basic to achieve a clean, minimalist, and streamlined design. When looking for simplicity in your shop fit-out, keep the following essential suggestions in mind:

Clear Layout: Choose a cozy, uncluttered layout that makes it simple for customers to move throughout the store. Avoid packing too many things or too many displays into a small area. Emphasize open spaces, and allow sufficient space between fixtures and exhibits.
Minimalist Style: Select a minimalist design strategy that emphasizes clear lines, practicality, and simplicity. For a unified design, keep the colour scheme simple and use a few complementing hues. Use neutral colours as a foundation and selectively add splashes of colour to highlight particular features or items.
Product Placement: The positioning of products should be strategic and planned out in order to preserve visual balance and prevent visual overload. Create logical product categories by grouping related items together.
Minimal Signage: Use minimal signs that deliver important information clearly and succinctly without using a lot of text or visuals. Choose simple signage designs that complement the visual character of your brand. Choose readable fonts for your store that are consistent throughout.
• Lighting is Key
Along with illuminating the space, lighting also creates a mood, draws attention to items, and improves the overall shopping experience. Here are some crucial factors to take into account when designing your shop's lighting:
Ambience and Atmosphere: Make sure the lighting fits your brand and the atmosphere you want to evoke when customers visit inside. Think about the mood you want to create, whether it's warm and inviting, vibrant and energizing, or opulent and refined. Lighting can affect clients' emotions and assist in creating the ideal atmosphere.
Natural Light: If at all possible, include natural light in the design of your shop. Natural light can stream into the room from large windows or skylights, providing a warm and inviting atmosphere. In addition to lowering energy expenditures, natural light improves product visibility and colour accuracy.
Layered Lighting: By combining different lighting levels, you may add depth and visual interest. This includes ambient lighting, which provides general illumination, task lighting, which emphasizes particular regions or displays, and accent lighting, which highlights specific items or focal points. The use of layered lighting gives an image more depth and vibrancy.
Energy-Efficient Lighting: Choose from LED (Light Emitting Diode) fixtures or similar energy-efficient lighting alternatives. Compared to conventional incandescent or fluorescent lighting, LED lights use less energy, are more durable, and generate fewer emissions of heat. Additionally, they come in a range of colour temperatures to match the tone you want to create.
Flexibility and Control: Use lighting controls that are both flexible and customizable. Dimmer switches let you vary the lighting's intensity in response to the time of day, certain occasions, or seasonal variations. You can then create diverse vibes and adjust to changing requirements.
As part of the shop fit out process, don't forget to plan your lighting design beforehand to include the required electrical infrastructure and wiring. Collaborate with a qualified lighting designer or specialist to develop a lighting strategy that complements your brand, improves the visibility of your products, and fosters a welcoming environment for customers.
• Incorporate technology
Take into account using latest technology to improve the purchasing experience. This can include touchscreens or interactive displays that enable customers to inquire further about products or make purchases directly from the display screen.
• Environmental Options
When choosing materials for your displays, consider using recycled materials, sustainable wood, or other eco-friendly materials. Also, to provide green energy for your store, consider installing solar or wind generators. Over time, these can assist in reducing your reliance on fossil fuels and lowering down the cost of your electricity.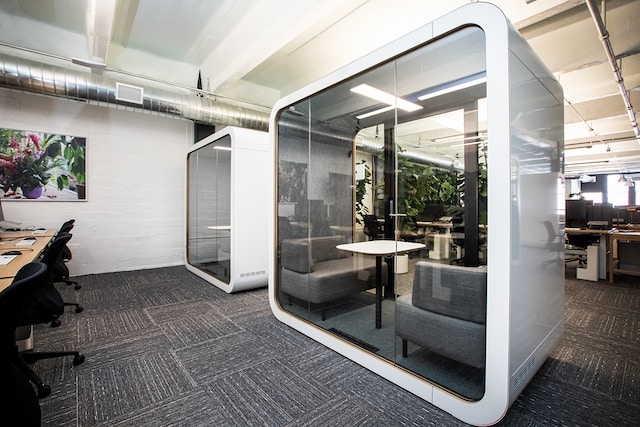 Shop Fit out Cost: Budgeting for Your Project
To ensure that your project stays within your budgetary limits, creating a budget when planning a shop fit out is necessary. When setting a budget for your store fit out, keep the following important aspects in mind:
Space Analysis: Consider the dimensions and present condition of the area you will be working. As these can have a big impact on the budget, assess whether any structural alterations, repairs, or upgrades are necessary.
Materials and Finishes: Look into and compare the prices of various materials and finishes. Though more expensive initially, high-quality materials and finishes can increase the overall appearance of your shop while also offering long-term durability.
Furniture and Fixtures: Establish what kinds of fixtures, shelving, displays, and furniture you'll need for your store in order to complete your furnishing plan. To identify the best solutions within your price range, seek suppliers, receive estimates, and compare prices.
Electrical and Lighting: Take into account your shop's electrical demands, such as the lighting fixtures, power outlets, and any unique electrical requirements for machinery or software.
Regulations and permits: Find out which local licenses, authorizations, and permits are necessary for the construction of your shop. Make sure to set aside money for any required permits or inspections because failure to comply can lead to further costs or delays.
Professional fees and Labour: The cost of labour, including that of construction workers, electricians, plumbers, and any other qualified tradesmen needed for your project, should be taken into account. If you decide to work with consultants, architects, designers, project managers, and other professionals, consider their professional fees.
Contingency: Set aside money for unanticipated costs or adjustments during the fit out process. As a general rule, 10% to 20% of the overall budget should be set aside for unforeseen expenses.
Schedule phasing: Determine your shop fit out's timetable and consider whether you should split the project to control costs. Phasing enables you to prioritize important components and finish the fit out in stages in accordance with your budgetary constraints.
Maintaining a balance between your desired store fit out concept and your available budget is essential. To make sure the project stays within your budget, think about giving priority to important components and making concessions on less important ones. Working with knowledgeable shopfitters, architects, or contractors can also give you insight into cost-cutting strategies and value engineering possibilities without compromising design or functionality.
Shop Fit Out Contractors: Choosing the Right Professionals for Your Project
To ensure the success of your project, you must select the best shop fit out contractor. When choosing experts for your store fit out, keep the following points in mind:
Skills and Expertise: Search for contractors with a solid track record and an extensive range of shop fit out experience. Check their portfolio to make sure they have previous experience working on projects just like yours. Depending on the needs of your project, take into account their competence in fields like design, building, technical, and maintenance.
Insurance and licensing: Verify that the contractor has the relevant licenses and the authorizations that are required by the local government. To safeguard yourself from any possible risks or accidents during the project, confirm their insurance coverage, including worker's compensation.
Comprehensive Services: Determine whether the contractor employs a group of specialized experts or provides comprehensive services. Designers, architects, project managers, electricians, plumbers, and other craftsmen fall under this category. It is easier to coordinate and guarantee a more seamless project execution when you work with a contractor who can offer end-to-end services.

BRANDBOY – HIGH QUALITY FIT-OUT SOLUTIONS IN AUSTRALIA
It can be a smart investment to have a striking, well-suited office space, regardless of whether you work in the corporate, commercial, and retail sectors or the hospitality, healthcare, and entertainment industries. The best way to maximize the return on this worthwhile investment is to seek the assistance of professional fit-out and refurbishment companies.
Brandboy has years of experience in the construction and fit-out industries, as well as has experienced professionals and a reliable network of workers. In Australia and New Zealand, we specialize in national and multi-site rollouts of fit-out, construction, and refurbishment projects.
Out team can be involved in all trades – joinery, internal and external signage, carpentry, fixtures, electrical and data cabling, plumbing, internal and external painting, glazing and replacements, façade, flooring, roofing, and other related services. We specialize in multi-site construction, fit-out, signage, concrete, refurbishment, maintenance, Head of Contract, remedial works, and other fit-out services.