Improve your working environment with superior office remodeling services
A well-organized workplace can have a considerable positive impact on the output of employees. With the help of office renovation and remodeling services, you can create a space that encourages concentration, productivity, and teamwork by optimizing the layout, lighting, and overall design.
Remodeling services can also enhance the aesthetics and create welcoming collaboration spaces, inspiring staff members to feel appreciated and encouraged. Generally, clients, shareholders, and guests get a good first impression of an attractive office. It presents professionalism, attention to detail, and a commitment to quality, possibly enhancing commercial ties and fostering a positive perception of your business.
Why Office Renovations are Necessary?
Modernization: With regard to design, technological advances, and efficiency, office spaces can become obsolete with time. Office remodels bring the workspace up to date by integrating cutting-edge technology, modern design features, and practical layouts that meet industry requirements.
Enhanced functionality: As business demands change, office renovations can take specific functional requirements into account. With enhanced productivity and collaboration, renovations can improve the layout, reorganize the rooms, and add or remove features. This entails designating locations for certain activities, enhancing storage options, or updating infrastructure to enable new technology.
Better aesthetics: A beautiful workplace setting can have a beneficial effect on staff morale and leave a lasting impression on clients, guests, and prospective employees. Renovations give the opportunity to add aesthetically pleasing features like new color schemes, contemporary furniture, original art, and branding components that represent the company's image and values.
Employee retention: Having a well-designed, practical workspace helps to foster a culture of loyalty among staff members as well as draw in and hold onto top candidates. Renovations that put an emphasis on workers' comfort and well-being and offer collaborative areas that can increase morale, engagement, and loyalty.
Health and safety compliance: Renovations present a chance to resolve any health and safety issues. A safe and healthy work environment for employees can be created by updating electrical systems, fire safety precautions, ventilation, and accessibility.
Energy conservation: Upgrading an office presents an opportunity to use environmentally friendly strategies. Energy consumption can be decreased, and running costs can be decreased by upgrading HVAC, lighting, and insulation systems. The incorporation of eco-friendly materials, the implementation of recycling programs, and the promotion of sustainable activities all contribute to a greener workplace.
Increased Productivity: Office renovation enables the reorganization of the workspace design to improve efficiency and flow. Employee navigation and interaction are improved by thoughtfully placing workstations, collaborative spaces, and meeting areas. Improved productivity results from a layout that minimizes time lost on pointless movement and promotes seamless communication. Focus and productivity can also be increased by using ergonomic chairs, adjustable workstations, and appropriately positioned computer monitors to reduce physical discomfort and weariness. Employees are able to work more productively and for more extended periods of time in an environment that promotes healthy posture and minimizes strain.
Enhanced Brand Image: Office renovations offer a chance to match the actual workspace with the brand identity of the business. The office becomes a reflection of the business's values, personality, and visual identity by utilizing brand colours, logos, and design elements throughout the entire structure. Employees, customers, and visitors to the business can all have a consistent brand experience because of the consistency between the brand image and the office setting.
Customized Solutions: Businesses that choose bespoke office renovation solutions can create a place that uniquely meets the individual needs of customers and employees. It is consistent with their corporate identity and helps them achieve their objectives for productivity, employee satisfaction, and business success.
Adapting the office's layout and design to maximize space consumption is a component of customized solutions. This entails taking into account elements including departmental requirements, employee collaboration, privacy issues, and long-term growth objectives. Space planning makes sure that the workplace is set up in a way that fosters productive workflows, complements the particular structure and operations of the company, and enables efficient workflows.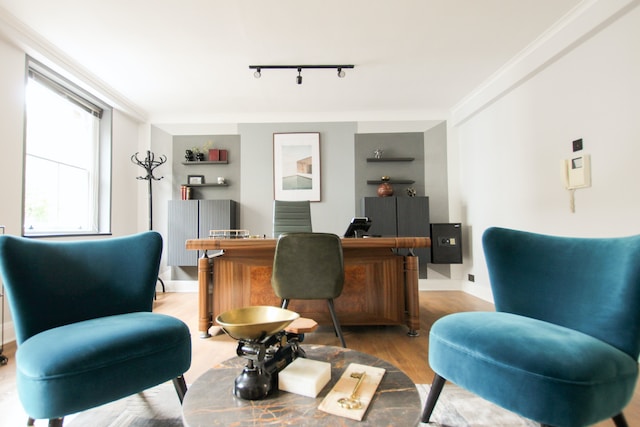 Choosing the Right Office Refurbishment Services
Experience and Expertise
Look for a service provider with extensive experience in the office renovation industry. They must have a track record of finishing comparable projects on time and on budget. When evaluating someone's skills and level of work, look at their portfolio of prior projects.
Office renovations demand specialization because they call for unique knowledge and skills. Make sure the contractor has experience with office renovations rather than just general remodeling or building. Evaluate the refurbishment team's competencies and skill set. They must be knowledgeable in interior design, space planning, building, electrical and plumbing work, and project management. A well-rounded team with a wide range of skills can manage the entire renovation process successfully.
Evaluate the service provider's standing in the industry. Look for client references, testimonials, and customer reviews. Positive reviews and references demonstrate their capacity to satisfy clients and offer high-calibre work. Analyze their methods for cooperation and communication. Throughout the project, they should be able to deliver concise updates and progress reports, be receptive to your needs, and be dedicated to their work.
Customization and Flexibility
To personalize the office renovation to your unique needs and preferences, seek for a service provider that offers a variety of alternatives for customization. They must be able to collaborate closely with you to comprehend your requirements and convert them into a distinctive design that matches your brand, culture, and functional specifications.
The availability of modular or adaptable solutions which allow future alterations or reconfigurations should be taken into account. This adaptability is beneficial because it enables your office space to adjust to meet evolving business needs, such as departmental changes, growth, or technological improvements, without necessitating extensive renovations.
Cost and Time Management
Seek out a service provider who offers transparent pricing and a detailed analysis of charges. They should be able to give you comprehensive estimates for all the different costs involved in the renovation job, including materials, labour, permits, and any extra services. Pricing transparency aids in your decision-making process by allowing you to comprehend the project's financial impacts.
 Ask about the service provider's method for reducing costs. They should have plans in place to control costs all throughout the project, including tracking expenditures, spotting potential cost-saving opportunities, and presenting alternatives without sacrificing quality. Think about the service provider's overall value for the money. Even though it's crucial to keep prices in mind, sometimes going with the cheapest alternative won't be the ideal choice. Analyze the calibre of their job, the supplies they employed, and their standing in the industry as a whole. It is advisable to choose a service provider who charges a fair price while upholding high levels of quality and client satisfaction.
 Communicate with them about the anticipated schedule for the renovation job. Based on the volume of work and their experience, they should offer a reasonable schedule. Examine their track record of finishing projects on time and their aptitude for handling unforeseen delays or adjustments. To minimize interruptions to your business activities and guarantee a project's successful completion, effective time management is essential.
Types of Office Renovations
Commercial Office Renovations
The upgrading or refurbishing of office spaces utilized for business purposes is referred to as a commercial office renovation. With increased productivity, staff satisfaction, and client experience, these improvements concentrate on enhancing the workspace's utility, aesthetics, and overall efficiency.
Commercial office renovations can range from little aesthetic updates to comprehensive redesigns, depending on the particular demands of the business. Businesses may build a more functional, visually appealing, and productive workspace that supports their goals and improves the entire working experience for both clients and workers by investing in these changes.
Business Office Remodeling
Business office remodeling describes modifications that are specifically intended to enhance the usability and aesthetics of office space to satisfy the particular needs and goals of a company. 
To improve efficiency and workflow, this form of refurbishment entails changing the office's layout and design. It could involve altering the layout of existing buildings, erecting new ones, dividing up departments or workspaces, and developing effective traffic patterns. The objective is to develop a more effective workspace that encourages employee collaboration and communication.
Frequently Asked Question
 What does refurbishment include?
Structural Modifications: Renovation projects may require structural alterations, such as taking down or putting up walls, partitions, or ceilings, to change the plan and create more usable rooms. This may entail rearranging rooms, constructing open-plan spaces, or cutting up big areas into smaller ones.
Electrical and Plumbing Work: Electrical and plumbing systems are frequently upgraded as part of renovations to guarantee their safety, effectiveness, and regulatory compliance. Rewiring, adding outlets, replacing lighting fixtures, upgrading plumbing fittings, and enhancing drainage and water supply systems are some examples of these works.
Flooring and wall finishes: During the renovation, flooring components like carpets, tiles, or hardwood may be replaced or upgraded. To update the appearance and produce new wall finishes, such as paint, wallpaper, or decorative panels, renovation also entails repainting the walls.
HVAC Systems: To guarantee adequate temperature regulation and air quality, renovations may include upgrading or installing HVAC systems. This can include upgrading insulation, switching out obsolete HVAC equipment, and implementing energy-saving measures.
Interior Design and Decoration: Interior design can be incorporated into renovations by choosing colour schemes, matching materials and finishes, and adding ornamental items like artwork, plants, or signage. These design decisions aid in producing a unified and aesthetically pleasing atmosphere.
Upgrades for Accessibility and Safety: In order to comply with building rules and regulations, renovation projects may address accessibility and safety requirements. For better accessibility, this may entail adding ramps, elevators, or handrails. It may also need putting in place safety precautions like fire alarms, emergency exits, and security systems.
Technology Integration: To meet the demands of the modern workplace, refurbishment frequently entails integrating or modernizing technology infrastructure. This can involve setting up networking hardware, adding audiovisual systems, installing data cabling, or designing areas specifically for tech-related equipment.
GIVE YOUR OFFICE REFURBISHMENT PROJECT AN EXTRA LEAP
 Despite the fact that remodeling an office might be a difficult task, it can also prove to be a good long-term investment. Brandboy, a fit-out firm situated in Sydney, Australia, is an excellent choice if you're searching online for a trustworthy and professional office refurbishment contractor to help you with your office transformation project.
Brandboy team has a wide range of experience in refurbishments, renovation, and maintenance of facilities and properties. Our fit-out and refurbishment services include painting, glazing and replacements, custom-built joineries, epoxy flooring, signage, structural repair, waterproofing and tiling, glazing and replacements, concrete repair, electricals, and other related services. We specialize in the retail shop and office fit-out in multi-site projects Australia-wide. We are the ideal partner in transforming spaces and a company that can provide top-notch office refurbishment and fit-out solutions.
Contact us now at 0451 816 788 and lars@brandboy.com.au, and we'll be ready at your service.