Refurbishing your office space can create a satisfying environment where your business can thrive. It helps to boost productivity among employees, maximize the use of space and improve company image. But if not properly planned, an office fit-out refurbishment can be stressful and time-consuming.
When you make sure that good project management is included in the overall office refurbishment process, the project will likely run smoothly and efficiently. Also, money and time will be saved, and risk hazards will be minimized.
There's a lot to consider when it comes to office space refurbishment. These include site audits, space planning and design, detailed architectural and mechanical drawings, lighting, energy efficiency options, electrical data and IT cabling, flooring, office furniture, joinery, and painting.
CHOOSE THE RIGHT FIT OUT PARTNER
Instead of dealing with these issues yourself, delegate the tasks to an experienced and reputable fit-out partner that offers full project management services which involve design and planning, coordination of all trades, administration of material deliveries, and of course, schedule and budget management. By having a trusted single point of contact, the project will operate in a more organized manner as it eliminates the need to coordinate with different contractors.
Brandboy has a proven track record in transforming office spaces into productive workspaces for teams and businesses across Australia. We provide end-to-end project management – from planning and design, budget analysis and procurement management to branding, signage, construction, refurbishment, council approval, and schedule management. We've got you covered in all the office fit-out refurbishment processes to ensure that the transformation of your office space will create a dynamic working environment and improve the company's brand image.
Also, Brandboy specializes in multi-site office fit-outs. Recently, we have been engaged to work for Hertz Australia in multi-sites including Sydney, Perth, Cairns, and Darwin.
Check out the newly upgraded rental booth of Hertz Australia in Cairns airport. We have refurbished the existing booth with new joineries, floors, data and electrical, and eye-catching external and internal signage.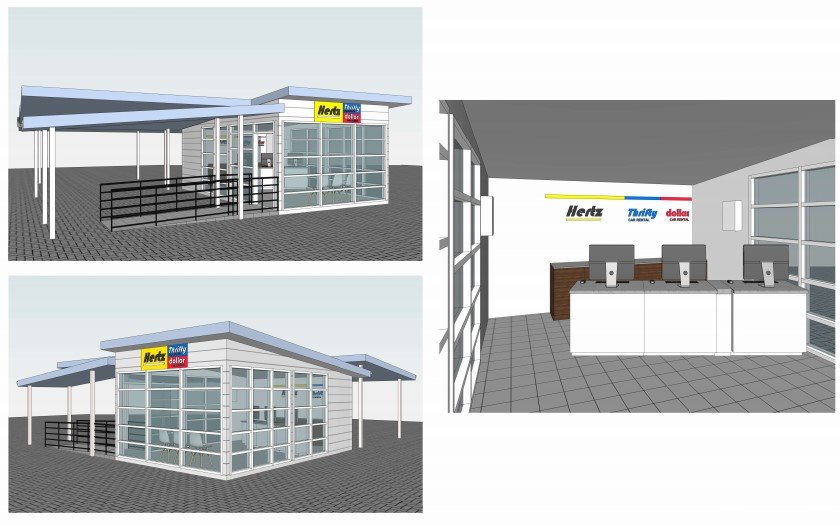 At Brandboy, we provide a competent Project Manager and installation team to ensure that the fit-out projects are completed on time and within budget. You can count on us to keep you informed on the status of the project throughout our service operations.
Contact us to learn more about how our complete project management solution will assist you with your next office fit-out project.