Modern Office Fit Out: Creating an Efficient and Productive Workspace
Each contemporary office fit-out requires the development of an effective and functional workspace. Employee productivity, focus, and motivation can be increased in an office that has been carefully planned and organized, creating a better working environment and greater positive results. The following advice can help you maximize space and design a functional and effective workspace.
Consider Open Plan Office Layouts
Choose Multi-functional Furniture
An excellent method to maximize your office space and raise productivity is by selecting multi-functional furniture. Here are some few examples.
Built-in storage for desks: Built-in drawers, shelves, or cabinets can keep your workspace tidy and clutter-free. This can increase productivity by minimizing interruptions in work operations.
Mobile workstations: These are customizable and can be used in various settings, including conference rooms, breakout spaces, and open-plan offices. They frequently have storage compartments and may be quickly adjusted to meet your team's needs.
Folding tables and chairs: When not in use, folding tables and chairs can be conveniently stored, freeing up space in your office. In addition, they are helpful in designing adaptable workspaces that can be quickly changed as needed.
Use Light and Color to Your Advantage
Your team's productivity and disposition can be greatly affected by light and colour.
Here are some ways to take advantage of light and colour.
Natural light
For mood and productivity, natural light is the ideal kind of lighting. Maximize natural light in your workspace if possible. To let natural light enter the workspace more deeply, arrange workstations close to windows or make use of transparent partitions.
Task lighting
Desk lamps or under-cabinet illumination can assist in illuminating particular work areas and lowering eye strain. Choose lighting that can be decreased and offers a suitable level of brightness.
Color scheme
Colour can affect our productivity and behavior. Use colours like blue, green, or yellow that are known to increase productivity. Avoid choosing distracting colors, including those that are excessively vivid or overbearing.
Accent walls
Accent walls can provide a workspace depth and appeal. Select a shade that goes well with your overall colour scheme and gives the space a sense of vitality and creativity.
Biophilic design
In a biophilic workplace, organic components like plants, water features, and natural materials are incorporated. This can have a positive impact on mood, creativity, and productivity.
By using light and color to your advantage, you can create a workspace that is both aesthetically pleasing and conducive to productivity and creativity.
Create a Functional Reception Area
The reception space serves as a customer's first point of contact with the business, so it must be both practical and welcoming. Here are some ideas for designing an efficient reception area:
 Comfortable seating
This is essential in a reception area because guests might need to wait for a while. Select supportive and comfortable seating that includes a variety of armchairs, sofas, and chairs to suit various needs.
Company Branding
Ensure to display your company's branding in the reception area. This may include the name of the business, its objectives statement, and other relevant details. Making your brand visible can strengthens the identification of your business and contributes to a favorable first impression.
Digital Technology
Make use of technology to improve the reception area's convenience. This may consist of a digital sign-in system, interactive displays, and mobile device charging stations.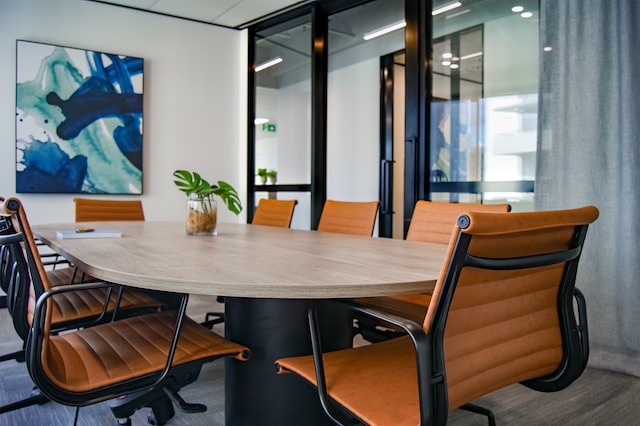 Small Office Fit-Out Ideas
A modern, minimalistic workplace design can be an ideal way to create a space that encourages concentration at work. When selecting items like lighting, storage, and furniture, give functionality priority over appearances. This will ensure that the area is accessible and efficient for work. Use built-in storage options to maintain the area organized and reduce visual clutter. Try to limit the number of decorative items you use, such as artwork or plants. Instead, pick a few design elements that improve the room while still adding charm and personality.
Making the most of the space available is essential when dealing with a limited fit-out space to ensure maximum usefulness and efficiency. The integration of vertical storage options is one approach to achieve this. To store larger objects like office supplies, stationery, and devices, use vertical cabinets that have multiple shelves. This will make it easier to maintain the area orderly and discover what you need immediately. Take advantage of pegboards to hang tools, equipment, and other small items from the walls. In addition to saving floor space, this will assist in keeping the things within easy reach.
A thoughtfully planned retail space can help draw people, boost sales, and produce an enjoyable shopping experience. Make your products stand out and draw clients' attention with eye-catching displays. This can include artistic signs, product displays, and window displays.
Frequently Asked Questions
What is included in an office fit-out?
Designing and constructing an office space to fulfil unique needs and requirements is known as an office fit-out. Depending on elements, including the size of the space, the number of employees, and the available funds, the scope of an office fit-out can change. However, an office fit-out often includes the following components:
Space planning and design: This can involve the arrangement of the room's furniture, the positioning of workstations and offices, and the division of common spaces such break rooms and meeting rooms.
Furniture and fixtures: Selecting and installing furnishings and fittings that are appropriate for the area. This can include the workstations, furniture, lighting, floors, cupboards, and shelves.
Mechanical and Electrical Systems: The installation or adjustment of mechanical and electrical systems, such as those for heating, ventilation, air conditioning, plumbing, and lighting, may also be part of the fit-out process.
Branding and Signage: To create a consistent and unified brand experience throughout the space, branding and signage elements like logos, colors, and slogans may also be incorporated throughout the office fit-out.
Finishes and Decor: This involves the installation of finishes and decor items, including wall coverings, artwork, plants, and accessories, that create an aesthetically pleasing and welcoming workplace for staff members and guests.
In broad terms, an office fit-out is a thorough procedure that includes the planning, designing, and installation of all the components needed to produce a useful, effective, and aesthetically pleasing office space.
Why is office fit-out important?
Increased Productivity: By establishing a more effective and useful workspace, a well-designed office fit-out can increase staff productivity. A fit-out might include elements like ergonomic workstations, cozy seating, and efficient lighting that can all contribute to reducing tiredness, tension, and injury while also increasing productivity.
Enhanced Collaboration: By establishing shared spaces that foster connection and communication, a well-designed workplace fit-out can stimulate collaboration and teamwork. Open-plan workstations, conference rooms, and breakout areas can all facilitate easier employee collaboration on projects and idea sharing.
Increased Employee Retention: By fostering a relaxing and stimulating work atmosphere, a well-designed office fit-out can increase employee satisfaction and retention. This can incorporate features like break zones, outdoor areas, and wellness rooms that can help staff members recharge and remain motivated at work.
Increased Property Worth: A high-quality office fit-out can raise a building's worth by transforming the area into something more appealing and useful. This can be highly important for property owners who want to draw in top-notch tenants and optimize their return on investment.
How do you plan an office fit out?
Establish the Fit-Out's Goals and Objectives: The first stage is to establish the Fit-out's desired outcomes and objectives. This can entail raising productivity, fostering a better ambiance, or allowing for development and expansion.
Assess the Space: The next stage is to evaluate the space and find any opportunities or limitations that might affect the design. This may involve the room's dimensions and shape, the placement of windows and doors, and the mechanical and electrical setup that is already in place.
Space Planning: Create a space plan that specifies the layout of the area, the placement of workstations and offices, and the distribution of shared spaces like meeting rooms and break areas based on the goals and objectives of the fit-out as well as the space's restrictions and opportunities.
Budget: Establish the budget for the fit-out, taking into consideration the cost of labour, materials, and any other costs like fees or permits.
Design Team: Pick a design team with experience in office fit-outs that can assist you in creating a thorough design strategy that satisfies your aims and objectives.
Furnishings and Fixtures: Choose furnishings and fixtures that are suitable for the room and satisfy the needs and demands of the workers and clients. Workstations, chairs, tables, cabinets, shelves, lighting, and flooring may all fall under this category.
Technology and Infrastructure: Decide on the IT systems, telecommunications, audio-visual gear, and security systems that will best serve the demands of the building's users and achieve the fit-out's objectives.
Timeline: Create a schedule for the fit-out that accounts for the availability of supplies and labour, any required licenses or approvals, and any additional elements that may have an impact on the schedule.
Communication: Maintaining open lines of communication with the building's occupants will help you keep them updated on your progress and any changes that may have an impact on how they perform their jobs.
What is the difference between interior design and fit-out?
Despite having comparable procedures, interior design and fit-out have different objectives in mind. While fit-out is concentrated on the functional aspects of a space, such as its layout, infrastructure, and furniture, interior design is concentrated on the aesthetics and overall appearance and feel of a space. Together, both of these techniques help to produce a unified functional area that satisfies the requirements and preferences of the users.
BRANDBOY – THE BEST PARTNER FOR OFFICE REFURBISHMENT PROJECTS IN AUSTRALIA
Businesses can build a more productive workplace through office fit-out, which can enhance employee retention and profitability.
If you're searching for high-quality office refurbishment services in Australia, Brandboy can be the best option. We have been assisting several top businesses in transforming spaces to improve their workplaces. Our team can do all trades, including joinery, carpentry, fixtures, internal and exterior signage, electrical and data cabling, plumbing, internal and external painting, glazing and replacements, façade, flooring, roofing, air conditioning, cleaning, maintenance, and other related services.
Our services involve site audits across all stores and offices, budget and cost analysis, council approval, complete documentation, procurement and maintenance management, remedial works, fire and safety compliance, and end-to-end project management.
If you have any questions about our office fit-out and refurbishment, call us at 0451 816 788 or email us at lars@brandboy.com.au as soon as possible.