Commercial Refurbishment: Enhancing Your Office Space
One of the effective strategies to improve your office space and make it more appealing and productive is through commercial refurbishment.
Here are a few ways that refurbishing your office can significantly improve the business space:
Enhanced functionality: When you renovate your office, you can reassess the space's layout and design. Rearranging workstations, establishing collaborative spaces, and enhancing the general efficiency of various departments can all help to optimize the process. Your employees may become more effective and productive as a result of the upgrade transformation.
Improved appearance: An obsolete or unappealing office can have a detrimental influence on employee morale and leave a bad impression on clients and visitors. You can give your office a contemporary, fashionable, and aesthetically pleasing space by renovating it. This can impress clients, improve brand perception, and increase employee satisfaction.
Flexibility: A renovation project enables you to design adaptable spaces that can meet various needs. To support different work styles, team sizes, and activities, you can add flexible furniture, moveable dividers, and multi-functional spaces.
Energy efficiency: When you upgrade your office, you have the chance to make it greener and more energy-efficient. You can boost insulation, build energy-efficient lighting systems, improve heating and cooling systems, and use sustainable materials. This not only lessens your impact on the environment but also decreases your long-term utility costs.
Employee well-being: Productivity, health, and fulfilment at work can all be gained from an office that has been carefully planned and designed. You can create cozy workstations through renovation, add amenities like breakout sections, leisure areas, or wellness rooms, increase natural light, improve ventilation, and more. Retention rates can go up, and stress levels can be decreased by putting employee well-being first.
Keep in mind that hiring experts like architects, interior designers, and contractors with experience in office renovations is crucial when organizing a business remodel. They can help you go through the procedure, ensure you follow the rules, and help you get the results you want for your office space.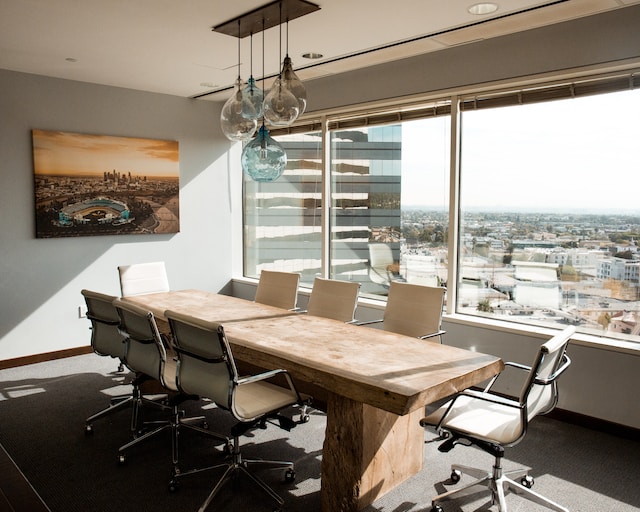 Office Renovations: Boosting Your Business
• Consider the Budget
Decide how much money you are willing to spend on the office transformation project. Think about things like the space's size, your intended improvements, and the degree of renovation needed. Making clear assessments early on in the process can benefit you throughout the process. List the important tasks or components of the office that need to be done right away or that will have the most influence on your objectives. Utilize your funding to upgrade aged infrastructure, increase functionality, or improve staff well-being, among other high-priority areas.
• Check Experience and Credentials
Working with experienced professionals with the required credentials is essential when starting an office renovation project to ensure the best possible result.
Review the track record and portfolio of the individuals or businesses you are thinking about hiring. Look for proof of their prior workplace remodelling initiatives. Take note of the extent, size, and calibre of their work. This will enable you to gauge their level of experience and suitability for similar tasks. Take the time to reach out to referrals from previous clients. Ask them about their previous interactions with the individuals or businesses you are considering. Examine their job quality, adherence to schedules and budgets, communication abilities, and general satisfaction with the renovation process.
Find experts or reputable companies that are particularly focused on refurbishing offices. Working with specialists that have a lot of knowledge in this field can help to ensure that your project satisfies the particular requirements of commercial space, which have different rules and restrictions than other types of settings.
• Look for Customized Solutions
When remodelling your workplace, it's essential to look for customized options that address the unique needs and specifications of your business. Examine the way your company uses space and pinpoint any areas that could use improvement. Take into account the workflow, departmental requirements, cooperation needs, and future expansion objectives. The layout can be improved, workstations can be rearranged, flexible spaces can be made, and smart storage solutions can be integrated, among other customized solutions. Evaluate the particular needs of the operations and workflow in your organization.
Adopt specialized tech-integrated solutions to improve connectivity and expedite business processes. Implementing audio-visual solutions for meetings and presentations, as well as smart systems for lighting, climate management, and security, can all be part of the integration. Customized technology solutions can enhance productivity, teamwork, and user experience in general.
• Increase Employee Satisfaction and Productivity
When planning the office renovation, give priority to ergonomic design ideas. To maintain the physical well-being of your staff, provide movable desks, supportive chairs, and adequate lighting. Workspaces with ergonomic design reduce discomfort and tiredness, enhancing focus and productivity.
Dedicated locations should be set aside for teamwork and collaboration. Incorporate open floor plans, meeting spaces, and breakout areas so that staff members can gather there to collaborate and generate ideas. These settings inspire team members to communicate, work together, and be more creative.
Establish designated quiet areas or private workspaces to counterbalance an open-plan layout. Some tasks call for focus and few interruptions. By providing quiet spaces, employers encourage productivity by allowing workers to concentrate on their tasks.
Use as much natural light and vegetation as possible while renovating offices. Having access to natural light improves mood, energy, and general well-being. Integrate windows, skylights, and glass walls to let in more natural light. Introduce plants and other greenery as well, which not only improve the aesthetics but also the air quality, the sense of quiet, and the connection to nature.
Commercial Refurbishment Contractors: Importance of Choosing the Right One
The success of your office renovation project depends on selecting the best business refurbishment contractors. Choosing the right contractors is crucial for the following reasons:
Experience and expertise: The ideal office and commercial refurbishment contractors will have the required knowledge and skills for business renovations. They will comprehend the particular needs and difficulties of remodelling offices. Their expertise will guarantee that the project is completed successfully, in accordance with legislation, and to the highest quality standards.
Project management: Renovation projects for businesses sometimes involve a number of different activities, trades, and deadlines. The project will move along smoothly because skilled contractors will have strong project management skills. They will be responsible for managing a number of responsibilities, such as scheduling, liaising with subcontractors, handling permits, and resolving any unexpected problems.
Workmanship: For an office renovation to be effective, outstanding workmanship is necessary. Selecting trustworthy contractors guarantees that the remodelling will be carried out to a high standard. Their meticulousness, skill, and use of high-quality materials will produce a completed item that is aesthetically pleasing, practical, and long-lasting.
Compliance with laws and regulations: Commercial renovations frequently call for adherence to laws governing accessibility, safety, and building rules. Contractors with experience will be aware of these specifications and make sure that the renovation complies with all applicable laws. By doing this, the possibility of fines or expensive changes later is reduced.
Resource optimization: The proper contractors will assist you in making the best use of your resources, including time and money. They will offer value engineering solutions, present realistic cost estimates, and assist you in making selections that are in line with your spending plan and objectives. Their knowledge will help you plan projects effectively and reduce unneeded pauses in your company's operations.
Collaboration and communication: A remodelling project's success depends on efficient collaboration and communication. The ideal contractors will keep lines of communication open, updating you frequently on the status of the project, listening to your concerns, and keeping you informed. They will work directly with you, the architects, designers, and other stakeholders to make sure the renovation satisfies your expectations.
Warranty and after-sales service: Using reputable contractors guarantees that the work will be covered by an appropriate warranty. If there are any problems once the renovation is finished, they will stand by their work and offer after-sales service. This gives you comfort and guarantees that any issues or modifications are dealt with right away.
Make sure to do research, get multiple estimates, and speak with possible contractors before choosing any commercial and office refurbishment companies. Request references, check out their experience and background, and evaluate their communication and project management skills. You lay the groundwork for a successful and enjoyable workplace remodelling by selecting the proper contractors.
Fit Out and Refurbishment: What's the Difference?
A fit-out is the process of designing and furnishing an interior area such that it is practical and appropriate for a particular use. It entails converting a blank or empty space into a usable, fully functional place. The interior design, arrangement, and installation of numerous parts to fulfil the unique demands of the occupant are the primary concerns of a fit-out. In order to make a space functional, appealing, and in line with the unique needs and preferences of the occupant, a fit-out entails the whole interior design, installation, and outfitting of the area.
On the other hand, refurbishment focuses on modernizing or upgrading an existing space while maintaining its structural integrity. To improve the space's appearance, use, or efficiency, repairs, renovations, or aesthetic adjustments are necessary.
Refurbishing entails making specific enhancements, repairs, and additions to an existing space, whereas fit-out refers to the process of planning, outfitting, and converting a bare room into a practical and unique interior setting.
The terms "fit out" and "refurbishment" can occasionally be used interchangeably, and the amount of work required can vary based on the needs of the individual project.
• What is the difference between refurbishment and renovation?
Refurbishment is the process of repairing, modernizing, or enhancing an existing room or structure. While maintaining the space's original structure or layout, it entails reviving or restoring it to a better state. Most refurbishment initiatives aim to improve a space's efficiency, attractiveness, or functionality.
On the other hand, renovation usually entails a more substantial and thorough modification of a building or environment. It extends beyond maintenance and improvement, frequently requiring substantial remodelling or modernization. The purpose of renovation projects is to update and modernize the area while adapting it to new standards or requirements.
BRANDBOY – YOUR RELIABLE PARTNER FOR OFFICE FIT OUT AND REFURBISHMENT PROJECTS IN AUSTRALIA
By improving the offices and business spaces through office fit-out refurbishment, businesses can create a more productive work environment leading to increased sales and work efficiency.
In Australia, Brandboy can be the right choice if you're looking for high-quality office renovations and refurbishment services. We have been helping several leading companies in transforming spaces to revitalize their work environment. Our team can be involved in all trades – joinery, internal and external signage, carpentry, fixtures, electrical and data cabling, plumbing, internal and external painting, glazing and replacements, facade, flooring, roofing, air conditioning, cleaning, maintenance, and other related services.
Contact us today at 0451 816 788 or send us an email at lars@brandboy.com.au if you'd like to learn more about our office fit-out and commercial refurbishment services.