Introduction to Medical Fitouts
Medical fitouts pertain to the process of planning and building medical facilities such as clinics, hospitals, dentist offices, and other health care establishments. These fitouts are specifically designed to fulfil the specialised needs of the medical field, assuring the efficient and successful delivery of healthcare services.
A medical fitout's objective is to produce a functional, safe, and pleasant atmosphere for patients, healthcare professionals, and staff. The design and architecture of the facility are critical in increasing efficiency, boosting patient comfort, and assuring compliance with regulatory standards.
Architectural design, interior layout, equipment installation, and the integration of vital infrastructure such as plumbing and electrical systems are all components of medical fitout. To ensure that the facility fulfils the specific demands of the healthcare practice, the architects, interior designers, constructors, and healthcare experts need to collaborate.
The following are important factors in medical fitouts:
• Functional Layout and Workflow Optimisation
Assess what space is accessible and list the unique needs of the healthcare centre to start. Think about things like the movement of employees and patients, as well as the demand for privacy and accessibility. Create a floor design that makes the best use of the available space while providing easy access and good visibility.
When designing workspaces and patient rooms, consider ergonomics. Ensure that all furniture, equipment, and fixtures are adequately sized, adjustable, and visually appealing for both personnel and patients. Consider the workflow and physical demands of tasks when designing a supporting environment to minimise the risk of strain or injury.
Arrange different divisions and sections systematically depending on their functional connections. Conduct a detailed examination of the medical facility's workflow operations. Make certain that the layout and design adhere to any accessibility standards and regulations. Consider the requirements of patients with impairments, the elderly, and others with mobility issues. Include ramps, railings, accessible bathrooms, and wider doorways in the layout design.
When planning medical centre fitouts, consider future requirements and modifications in medical procedures. Make provisions for flexibility to enable changes and expansion as needed. To accommodate changing healthcare trends and technologies, incorporate adaptable furnishings, modular layouts, and easily upgradeable infrastructure.
• Patient Flow and Accessibility
To reduce overcrowding and delays, manage patient movement around the healthcare facility. Create waiting rooms that are welcoming. Offer amenities and services like chairs, books and magazines, and refreshments. Set up the assessment and treatment rooms close together to minimise unnecessary movement.
Medical fitouts can contribute to a seamless and satisfying patient experience by using intelligent design concepts and particular features. Well-placed signage and wayfinding systems assist patients in simply navigating the facility. Patients can be directed to registration areas, waiting rooms, examination rooms, and other key locations using clear directions and informative signs. This decreases confusion and delays, hence enhancing patient flow.
Ample space should be made available around the medical centre fit-out to allow patients to move freely, particularly those who use mobility aids such as wheelchairs, walkers, or crutches. Wider corridors, strategically positioned furniture, and open pathways help to create barrier-free spaces that improves patient movement and easy access.
Assessment rooms should be constructed considering patient comfort and accessibility in mind. Adjustable examination tables, accessible seats, and grab bars in strategic positions allow movement and ensure that patients receive care in a comfortable environment. These modifications are especially critical for people who have restricted mobility or physical impairments. Also, patient privacy should be considered in the design process. Soundproofing materials and proper room layouts can help to keep confidential conversations private and patients' personal information protected.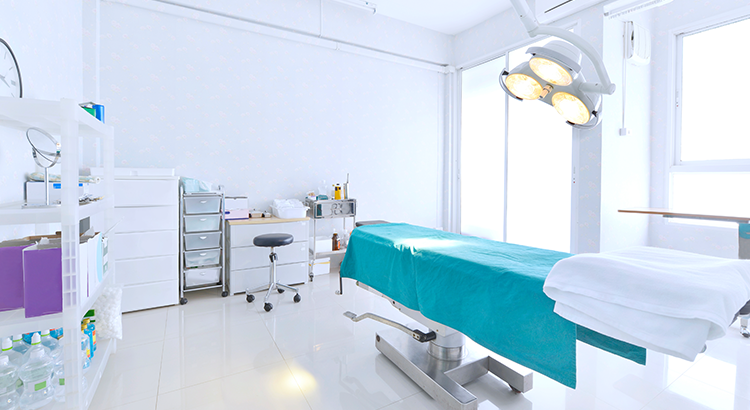 Staff Efficiency and Collaboration
Utilise technology and set up efficient channels of communication to encourage collaboration among staff members. This can include electronic health records (EHRs) and streamlined messaging systems that facilitate a smooth transfer of data and consultations. Integrate multi-functional spaces such as meeting rooms or huddle areas where personnel from several departments can gather to discuss cases, share insights, and collaborate on the treatment of patients.
Provide employees with training and support to help them adjust to the new workspace and efficiently use any updated technology or equipment. It's also recommended to add green spaces or indoor plants in the workplace, which can enhance air quality, reduce stress, and contribute to a more pleasant working atmosphere. Use natural light as much as possible, as it has been confirmed to improve mood and productivity. Comfortable and pleasant settings contribute to employee well-being and engagement.
Proper Healthcare Material Selection
• Hand Hygiene Stations and Waste Management
Hand hygiene stations and waste management are essential components of any medical fitout to provide a safe and sanitary environment for patients, staff, and visitors. Proper hand hygiene and waste disposal are critical in reducing illness transmission and keeping a clean healthcare facility.
Hand hygiene stations should be strategically placed throughout the facility, particularly at important entry and departure points, patient rooms, waiting areas, and near surfaces that are highly tactile. Provide alcohol-based hand sanitisers with at least 60% alcohol for convenient and quick hand disinfection. To emphasise the value of hand hygiene to staff, patients, and visitors, place informative signs and posters close to hand washing facilities.
Implement a thorough waste management system that includes labelled bins for various waste categories, including recyclables, infectious trash, and disposal of sharps. Ensure that biohazardous trash is properly identified, kept in a secure location, and disposed of in accordance with all applicable instructions. To maintain the facility clean, establish a regular schedule for garbage removal.
Inform employees on correct waste segregation and disposal procedures to reduce the danger of contamination and infection. To avoid the spread of germs, establish frequent cleaning processes for high-touch surfaces and commonly used places. Ensure that personnel have access to essential PPE, such as gloves and disposable gowns.
Ensure that all hand hygiene and waste management activities correspond to local, regional, and national legislation and standards. Conduct frequent audits and inspections to examine the effectiveness of hand hygiene and waste management practices. To maintain high levels of cleanliness and safety, resolve any issues as soon as possible.
• Infection Control Measure
Implement the proper isolation precautions for patients with infectious diseases to reduce the risk of infection to other patients and healthcare personnel. Create and adhere to an extensive cleaning and disinfection schedule for each section of the medical institution, paying particular attention to high-touch surfaces and regularly used equipment. Use proper disinfectants that can combat a variety of diseases.
Encourage clients and guests to exercise good respiratory hygiene, such as covering their mouths and noses with tissues or their elbows while coughing or sneezing. To keep an eye on and track healthcare-associated infections inside the facility, develop an infection surveillance system. This enables prompt actions by assisting in the identification of patterns and potential outbreaks.
Implement patient screening procedures, such as temperature checks and symptom questionnaires, to identify patients and visitors who may be susceptible to infectious diseases. Create visitation regulations that take infection control concerns into account while also addressing the demands of patients and their loved ones. When necessary, limit visits for patients who have infectious diseases.
Ensure that infection control procedures are being followed in accordance with established protocols by conducting regular audits and monitoring them to spot any areas that need improvement.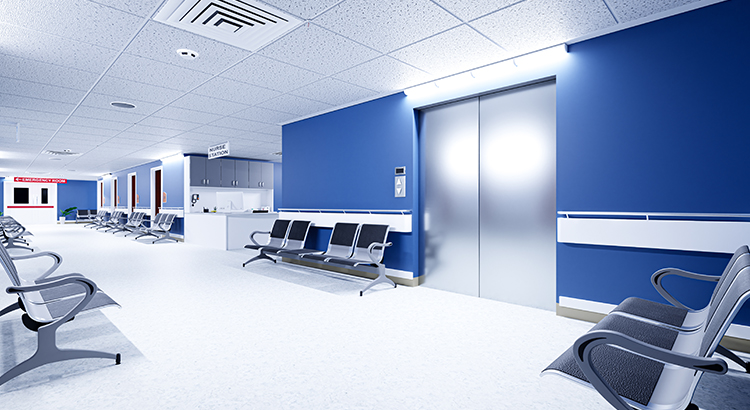 Frequently Asked Questions
• Why is the design of a medical facility important?
Patient Assistance and Experience: A well-designed medical facility can improve overall patient satisfaction. A friendly and comfortable setting can assist in reducing patient worry and stress, increasing patient satisfaction and adherence to treatment programs.
Productivity and Efficiency: Proper space planning and layout design helps optimise workflow within the facility. An effective design can shorten the time it takes to move patients between regions, improve communication between departments, and allow for more efficient medical operations and medications.
Infection Control and Safety: A well-planned design may smoothly combine infection control measures and safety protocols. Isolation areas, hand hygiene stations, and well-ventilated places that are properly built can considerably reduce the incidence of healthcare-associated infections and other safety issues.
Productivity and Staff Satisfaction: An organised medical institution considers the requirements of the medical staff. The satisfaction and efficiency of the employees are boosted by ergonomic workstations, neatly arranged supply rooms, and easily accessible equipment, which eventually results in better patient service.
Technological Integration: Modern medical technologies and equipment should be incorporated in a medical facility's design. Advanced technology can improve healthcare delivery overall and its ability to diagnose and treat patients.
• How can technology be integrated into a medical fitout?
Electronic Health Records (EHRs): Implementing EHR systems enables healthcare practitioners to electronically browse and update patient records. EHRs increase data accuracy, improve departmental collaboration, and minimise paperwork.
Wireless Connectivity: Establish a strong wireless internet connection throughout the facility to support connected medical equipment and devices. This can involve tracking equipment utilisation or remotely monitoring vital signs.
Teleconsultation: Design specialised areas or rooms with video conferencing equipment to enable telemedicine consultations. This improves access to healthcare services by enabling remote patient monitoring and virtual consultations with specialists.
Patient Entertainment and Education: Use technology to keep patients entertained and informed throughout their hospital stay, such as interactive screens or bedside tablets.
Diagnostic Requirements: Design the fitout to accommodate medical imaging and diagnostic equipment, such as X-ray machines, MRI scanners, and ultrasound devices. Comply with the necessary power specifications to prevent health hazards.
Wayfinding: Install digital wayfinding and navigation systems to make it easier for patients and guests to find their way around the healthcare facility. This can include real-time information-equipped signs and interactive maps.
Security Control: To protect the safety of patients, workers, and sensitive places, use technology for security purposes such as access control systems, CCTV cameras, and biometric authentication.
Emergency Response Systems: Put in place emergency response systems that send out alerts and notifications in times of need so that medical workers can react promptly.
Self-service Kiosks: Put up self-service kiosks for patients to use to check in, make appointments, and pay bills. This will cut down on queues and enhance the patient experience.
BRANDBOY AUSTRALIA – HIGH-QUALITY FITOUT AND REFURBISHMENT SERVICES
Through effective medical fit-out, healthcare service providers can create an optimised work environment that will increase productivity and staff retention, as well as improve patients' well-being and satisfaction.
In Australia, Brandboy can be the ideal option if you're looking for a top-notch medical fitout and refurbishment company. We have helped several reputable businesses to enhance workplaces. Our team of professionals is capable of performing different kinds of work, including joinery, carpentry, fixtures, internal and external signage, electrical and data cabling, plumbing, internal and external painting, glazing and replacement, façade, flooring, roofing, air conditioning, cleaning, maintenance, and other related services.
If you have any queries about our medical fit-out services, please contact us at 0451 816 788 or email at lars@brandboy.com.au as soon as possible.