Positive comments regarding your business are influenced by a well-designed fit-out that reflects your brand. It makes an outstanding first impression and upholds the principles and character of your company. Depending on how you want to portray your business, an organized setting could stimulate feelings or foster professionalism, creativity, and innovation.
Design a Brand-Reflective Commercial Fit-out
Here are some guidelines for creating a commercial fit-out that reflects your brand.
• Setting the stage for your brand
Perform an in-depth assessment of your brand, target market, and industry. Define the principles, character, and positioning of your brand. Decide what your target audience values, needs, and anticipates. Examine the interior design of your rivals to find ways to stand out.
Develop a concept that is consistent with your brand based on your study. Make a decision regarding the general look and feel you wish to achieve. Depending on the identity of your brand and the business sector you are in, take into account modern, classic, minimalist, or natural elements.
Choose a colour scheme that captures the essence of your brand while evoking the desired feelings. People's psychological responses to colour can affect their perception and mood. Neutral tones can portray professionalism and calmness, while vivid colours may convey innovation and vigour. Use the primary colours of your brand as accents all around the space.
To make your concept a reality, work with a qualified brand designer together with the architect, internal designer, and contractors. They can offer knowledgeable guidance and make sure your brand-reflective commercial fit-out is successfully carried out, resulting in an engaging setting that represents your business and captivates your audience.
• Understanding your brand's identity
Analyze the essential characteristics that make up your brand. Is your brand classy, entertaining, creative, or credible? Decide which terms best fit your brand and will act as the design's guiding principles.
Come up with a visualization that embodies your brand. Gather visual references, such as pictures, hues, textures, and patterns that correspond to the qualities of your brand. By doing so, you'll be able to picture the environment you want to create and use it as a design reference.
Acquire knowledge of the preferences, requirements, and expectations of your target audience. Think about the people in it in terms of their psychological characteristics, behaviour, and demographics. By having this insight, you can make sure that your audience will connect with and appreciate the fit-out design.
Always keep in mind that building a brand-reflective commercial fit-out is all about developing a seamless, immersive experience that captures the essence of your company's identity. The space needs to represent the ideals of your company, draw in viewers, and make an impact.
• Translating your brand into design elements
Proceed by going through the brand characteristics you already listed. These characteristics provide the framework for choosing design elements that accurately represent your brand.
Pick materials that complement your brand's identity and evoke the appropriate mood. Smooth and polished surfaces, for instance, may represent a modern and upscale brand, whilst natural materials like wood or stone may inspire a sense of authenticity and sustainability.
Choose furnishings, fixtures, and decorations that are functional, comfortable, and match the aesthetic of your brand. Think about the coherence of the overall design, the seating options in communal spaces, and the ergonomics of the workstations. To strengthen the presence of your business, incorporate brand-related accessories like branded stationery, artwork, or cushions.
Include green design elements in your fit-out if your brand prioritizes sustainability and eco-friendliness. Choose sustainable techniques, eco-friendly materials, and energy-efficient lighting. Showcase your dedication to environmental responsibility to attract clients and workers that appreciate the same principles.
• Considering Functionality and Brand Experience
Before delving into the aesthetics, make a note of the space's particular functional needs. Make sure the design promotes productive workflows, employee comfort, and the activities that will be performed in the space. Consider elements including seating capacity, storage requirements, technological integration, conference spots and privacy considerations.
Plan a layout that not only satisfies practical requirements but also reflects the experience and principles of your brand. For instance, create an open-plan layout with shared workstations, breakout rooms, and collaborative spaces if your company stresses cooperation and teamwork. Include private offices or soundproof meeting spaces if solitude and concentration are essential.
Design the space to produce a satisfying and memorable customer experience if the fit-out contains sections that are accessible to customers or clients, such as reception areas or meeting rooms. Reflect your brand's identity through the interior design, lighting, furnishings, and overall ambience.
Once the basic design is finished, evaluate the fit-out to make sure it satisfies the functional needs and the objectives for the brand experience. To determine areas for improvement, get feedback from employees, customers, or clients. Make the necessary changes to improve the space's functionality and brand coherence.
You can build a space that not only supports effective operations but also strengthens your brand's identity, raises consumer satisfaction, and creates a fun and engaging environment for everyone involved by taking functionality and brand experience into account when planning the fit-out.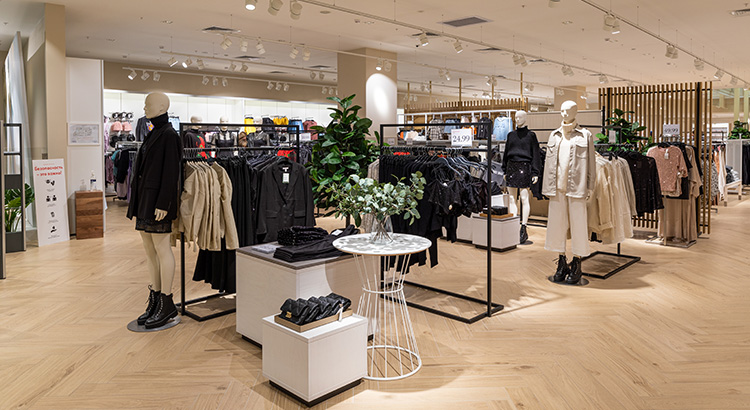 Key Elements of a Brand-Reflective Commercial Fit-out
• Color Palette and Materials
In addition to invoking particular feelings and connections, the colour scheme establishes the tone and atmosphere of the space. The personality of your brand and the mood you wish to create should be taken into account when choosing colours for your fit-out.
Colours that are strong and brilliant have the ability to evoke feelings of vigour, excitement, and creativity. In order to stand out and have a significant visual effect, businesses frequently utilize them.
Hues that are neutral or muted provide a vibe of refinement, professionalism, and tranquillity. Companies that prioritize subtlety, grace, and a classic look frequently use them. Natural and earthy colors can evoke a feeling of authenticity and a connection to nature, as well as a warm and inviting ambiance.
A commercial fit-out's material selection also has a big impact on how the brand's image and values come through. Various textures can enhance tactile sensations and visual interest. For instance, shiny, smooth surfaces may project a sleek, contemporary brand image, but textured materials, such as wood or brick, may generate a feeling of coziness and authenticity.
The materials used in the fit-out should be of a calibre that is consistent with the positioning of your business. High-quality materials can improve how people view your brand's dependability, sturdiness, and attention to detail.
The quality of the materials used in the fit-out should be consistent with the positioning of your business. The perception of your brand's dependability, durability, and attention to detail can be improved by using high-quality materials.
In addition to reflecting your brand's ideals, be sure the materials you choose are useful and appropriate for the space's particular needs. When choosing flooring materials, for instance, take longevity, simplicity of maintenance, and acoustics into account.
Aim for a unified and harmonious design that visually expresses your brand's identity throughout the room when combining the colour scheme and materials. These components should all be consistent in order to build a strong brand presence and make an impression on visitors, customers, and employees.
• Furniture and Fixtures
In order to create a commercial fit-out that reflects a brand, furniture and fixtures are essential components. Along with serving a practical purpose, they also add to the overall aesthetic appeal and brand experience.
Opt for furnishings and fixtures that go with the look and feel of your company. Modern and inventive brands should use furniture that is sleek and simple in style. Modernity can be communicated through the use of geometric shapes, straight lines, and metal accents.
Select furniture with exquisite and elaborate detailing for firms with a classic and timeless image. Traditional styles and elegant upholstery can evoke a sophisticated atmosphere. Brands can use diverse furniture pieces if they value creativity and individuality. To make an environment that is visually appealing and distinctive, combine various patterns, colours, and style elements.
Make an investment in durable furnishings and fittings that represent the dedication to excellence of your company. To ensure longevity and survive heavy use, durable materials and craftsmanship are crucial. A favourable impression of your brand's dependability and attention to detail is enhanced by high-quality furniture.
The whole brand experience can be improved with the help of furniture and fixtures. Think about how these components can appeal to the senses and leave a lasting impression. For instance, adding pleasant seating areas, eye-catching lighting fixtures, or interactive features can give customers and visitors a welcoming and engaging experience.
• Collaborating with Design Professionals
Working with design brand experts is an important step in developing a commercial fit-out that reflects a brand. These specialists have knowledge in branding, design, and space planning, so you can be sure that your fit-out appropriately portrays your company's image and provides a memorable brand experience.
Find design brand specialists with expertise in commercial fit-outs and a strong portfolio of work that complements the look and values of your company. Spend some time looking up their prior work and client endorsements to make sure they can offer the outcomes you want.
Give the design brand specialists access to your brand standards, which should include your logo, colour scheme, typography, and any other pertinent brand assets. Using this knowledge as a base, the fit-out design can incorporate your brand identity. Share all the relevant brand resources with them as well, such as brochures, marketing materials, or brand narratives, to ensure that they are aware of the history and positioning of your business as a whole.
Frequently Asked Question
Why good office layout is essential to a workplace?
A productive office layout can increase productivity and efficiency by streamlining the work process and reducing distractions. Employees can focus on their work, interact effectively, and conveniently access the resources they need by arranging workstations, collaborative spaces, and other amenities in appropriate locations. A well-thought-out arrangement minimizes pointless motions, encourages fluid communication, and streamlines procedures, eventually increasing productivity.
Collaboration and communication are fostered by an office arrangement that has been carefully thought of. Open floor plans, breakout sections, and shared conference rooms promote collaboration and chance encounters. Employee connectivity and collaboration are made simple, which builds a feeling of community, encourages information sharing, and supports creativity.
Employee engagement and well-being are significantly impacted by the workplace's physical environment. A good workplace design takes into account things like ventilation, noise reduction, natural light, and ergonomic concerns. Positivity at the workplace can be enhanced by providing cozy workstations, quiet spaces for focused work, and areas for unwinding or socializing. Employee satisfaction and engagement rise along with productivity and retention rates when they feel both physically and mentally supported.
BRANDBOY – YOUR RELIABLE PARTNER IN EFFECTIVE SPACE PLANNING FOR YOUR BUSINESS
As one of Australia's best commercial fitout companies, Brandboy uses the plan-create-realize strategy when doing fitout and construction projects. The Brandboy team has accumulated significant knowledge and expertise in end-to-end project management, construction, retail and commercial store fit-out, design, design and space planning, and construction. We can help you convert spaces for your retail store, commercial business, industrial units, educational centers, corporate offices, health-care and aged-care facilities through efficient space planning, commercial fit-out solutions, and fitout property management.
We have qualified specialists and a trustworthy network of trades with many years of experience in the building and fit-out industries. We specialize in national and international multi-site rollouts of retail and commercial interior fit-out projects in Australia and New Zealand. All trades, including fit-out and renovation, joinery, signage, carpentry, fittings, electrical and data cabling, plumbing, painting, glass replacement, solar panel installation, façade, flooring, roofing, digital transformation, and other associated services, are covered by our team.
For more information about how we can help you with the implementation of your exterior and interior flouts and construction projects, call us at 0451 816 788 or send an email to lars@brandboy.com.au.